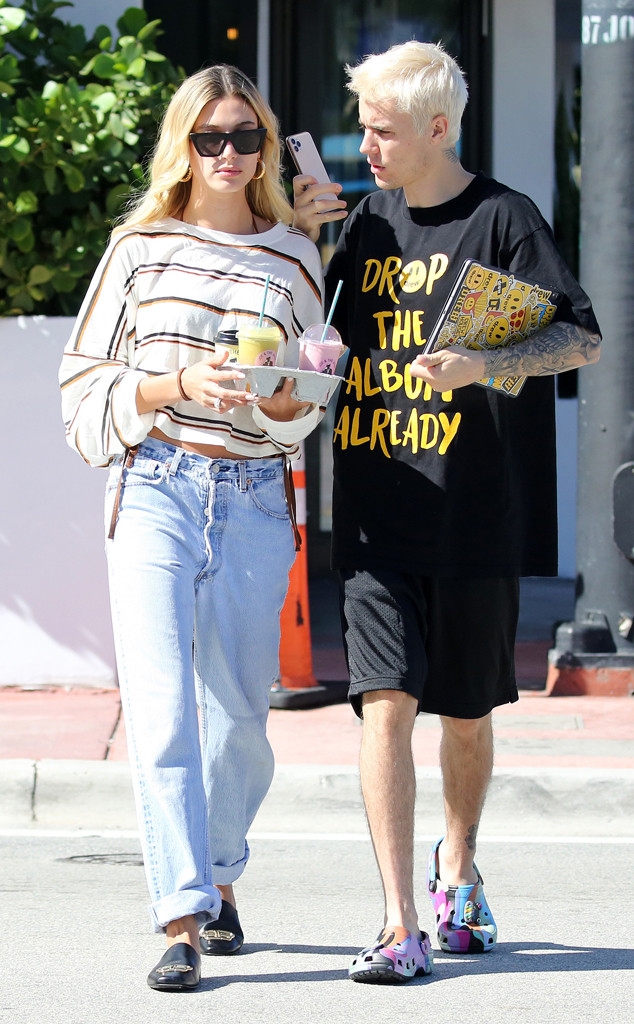 MEGA
Bienvenidos a Miami, Hailey and Justin Bieber!
The inseparable celebrity couple traded in last year's Canadian Thanksgiving celebration for a much warmer forecast in Miami, Fla. Hailey and Justin were photographed soaking up the sun's rays on Thursday before digging into a feast with friends and family. 
Hailey was on drink duty as she stepped out wearing a pair of vintage-inspired jeans and a striped tee, which she paired with oversized sunglasses and gold hoop earrings. Her plus-one, who is currently rocking a platinum blonde 'do, stayed comfy in colorful Crocs and a shirt that read, "Drop the album already."
We couldn't agree more, Biebs! 
Later on in the afternoon, Hailey and Justin were spotted relaxing by the pool. 
The duo's latest getaway comes just days after Hailey celebrated her 23rd birthday with a low-key gathering at their Los Angeles home. 
Justin also treated his leading lady to a romantic lunch at Malibu hotspot Nobu. A source shared with E! News at the time, "She seemed happy and was readjusting her makeup and making kissy lips over at Justin. They had a two hour lunch and stayed to relax by the water for a while."
The "Sorry" pop star would later take to Instagram with a cheeky message for his wife: "Happy birthday babes! You make me want to be better everyday! The way you live you life is so attractive..ps you turn me on in every way. next season BABIES."
Ah, young love. Enjoy your holiday in the sun, Justin and Hailey!