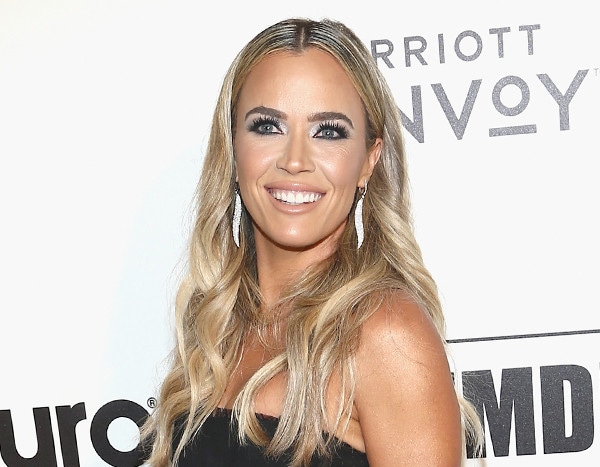 This isn't Teddi Mellencamp's first time at the rodeo.
With baby number three on the way, the Real Housewives of Beverly Hills star is opening up about her pregnancy with E! News. Speaking to us at the iHeartRadio Music Festival in Las Vegas on Saturday, the reality TV personality kept it 100.
"I haven't had any weird cravings," she revealed, adding, "I've had aversions, though. Like I see lettuce and I'm like, 'No,' which is not ideal but it is what it is." Same girl, same.
And while she hasn't had the urge to eat certain foods, she shared that her two kids—Slate Arroyave and Cruz Arroyave—are extremely excited to meet their sibling. "They are so excited, they're already like, 'I want the baby in my room;' 'No, my room"" the reality TV star quipped. "I'm like wait til the baby comes and then I'm like, 'You wanna learn how to change diapers?'"
Just last week, the Bravo star announced the special news that she and her husband Edwin Arroyave were expecting a little nugget. "Life is full of miracles," she captioned her Instagram post, where she showed off her growing baby bump.
Before announcing her pregnancy, the actress and accountability coach proudly walked her first Fashion Week show. Kyle Richards debuted her new clothing line, Shahida Parides, at NYFW and enlisted her fabulous friends to feature her latest collection. That included Lisa Rinna, Erika Jayne, Teddi and many others.
Despite getting some heat for her catwalk, Teddi wasn't going to let that steal her shine. "I am so damn proud of myself for having the courage to step out of my comfort zone, especially at 15-weeks pregnant in a flesh-colored bodysuit, and do my very best," she captioned in an Instagram post. "So now, I'm just gonna smile brighter and keep on strutting."
To see if the Bravo star will return to the Real Housewives of Beverly Hills, check out our video above!