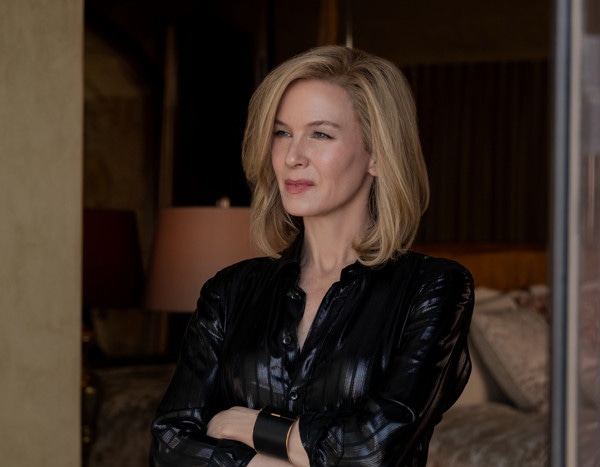 Renée Zellweger's got a new role on TV, and it's perfect for her because it's a role she'd never, ever play in real life. 
"I would never," Zellweger tells E! News. "Like, I would never. Every day, I would think, she didn't. She does. It's fantastic, i mean the things she says, and the way that she thinks. Is she sociopathic? Probably. Yeah, she's crazy." 
In Netflix's What/If, which is out today, Zellweger plays a seductive investor who's got a whole lot of money to invest in Lisa's (Jane Levy) med tech company, but she needs a guarantee that Lisa's all in. What better way to prove that than to give up her husband (Blake Jenner) for a night? 
Like Zellweger said, sociopathic. 
Jenner, who many know from Glee or the movie Everybody Wants Some!!, was excited to play a married adult for the first time.
"What was refreshing for me is to finally play like, a man," he says. "I feel like I'm always playing like the golden boy with the wound in his heart." 
Jane Levy was also excited about the adult material, and the opportunity to play so much "drama" and to work with Zellweger and Jenner on something so meaty. 
"It was also like a lot of work to go through what these people go through, in a really fulfilling way as an artist," she says. 
That might just be an understatement, as this couple is on the brink of going broke just as Anne Montgomery (Zellweger) mysteriously slinks into their lives with one crazy offer that turns out to be a lot more complicated than they could have imagined for them and pretty much everyone around them. We honestly feel pretty safe advising everyone that if a rich person offers you millions of dollars just for a night with your spouse, you should really just not do that. 
So if you're in the mood this long weekend to be totally creeped out by Renee Zellweger while she has the time of her life, then this is the show for you. 
What/If is currently streaming on Netflix.