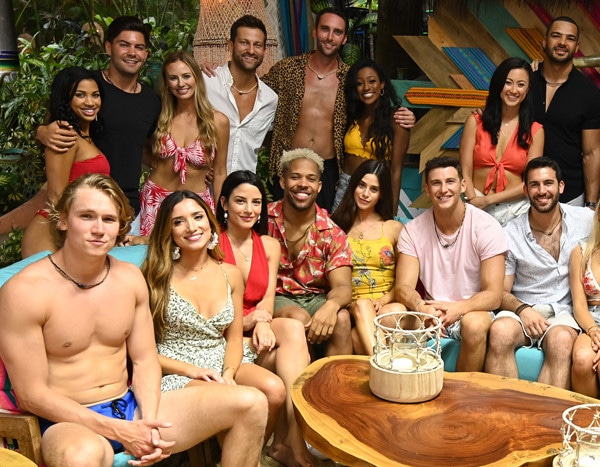 Bachelor in Paradise is at its best when it's just a complete disaster. 
We've said this before, but truly, we're having the best time when we're struggling to keep track of what and who and why and something that also might have happened at Stagecoach. The problem is that we're really actually struggling to keep track. Who's with who? And who's actually with who and who's just exchanging roses back and forth in the hopes of meeting a newcomer?
Plus, what's happening now that Demi's girlfriend has finally arrived on the beach?  
We're taking a moment here in the middle of this bonkers season to take stock of the couples currently on their way towards a season-ending engagement, or something to that effect. 
Demi and Kristian 
Demi couldn't get Kristian out of her mind, and Kristian only came here for Demi, and so Demi immediately broke up with Derek for Kristian. So now Derek is very sad, but Demi and Kristian are living their best lives, going on dates and making out at every opportunity. 
Does it make any sense that Demi's at-home, non-Bachelor Nation girlfriend is on the show with her? Nope! Do we care? Not really. Demi's been the most entertaining, least annoying person on the beach all season, and a same-sex relationship on this franchise is looooooong overdue. So welcome, Kristian. Hopefully you'll get some time to get used to the cameras while you're there. 
Clay and Nicole
Despite her awkward dalliance with Christian that ended with his fight with Jordan, Nicole and Clay are solid. So solid that she's willing to sing a terrible song for him on national television! 
Chris and Katie 
Chris and Katie were doing great-ish until the arrival of Jen Saviano. Chris liked Katie, and Katie liked Chris, but she couldn't seem to show him how much she liked him, and couldn't even tell him she was sad he was going on a date with Jen. So now they're at a bit of an impasse. Probably. We kinda forgot about them after Demi's girlfriend showed up. 
Hannah G. and Dylan
Now that Blake's out of the picture, these two are just spending their days making out in the pool, which is nice for them. It's a good change for them. 
Caelynn and Dean
Caelynn and Dean also like to make out in the pool, and while Caelynn had a momentary panic over Jen potentially picking Dean for their date, this did not actually happen. 
John Paul Jones and Tayshia
These two are doing just fine and honestly we're most impressed by the fact that JPJ has still got those abs despite how much he's shown eating. 
Mike and Sydney
The couple who does cartwheels and rips their pants together on the beach stays together? Seems possible! 
Blake and Caitlin and Kristina and ?? 
Kristina's still up to her tricks, making Blake stay and watch Hannah move on while also giving him the opportunity to find love while also giving herself the opportunity to do the same. This made new girl Caitlin (who?) extremely unhappy. She hates Kristina, calling her a mosquito and "literally atrocious" and blaming her for stealing Blake away, even though it's fully Blake's decision to hand out a rose to whoever he wants to give a rose to. 
It was a fight that made no sense, and it makes no sense that Blake is still here, and it's all literally atrocious. 
Tune in next week to apparently see another mysterious contestant we fully forgot about having a complete meltdown! 
Bachelor in Paradise airs Mondays and Tuesdays at 8 p.m. on ABC.