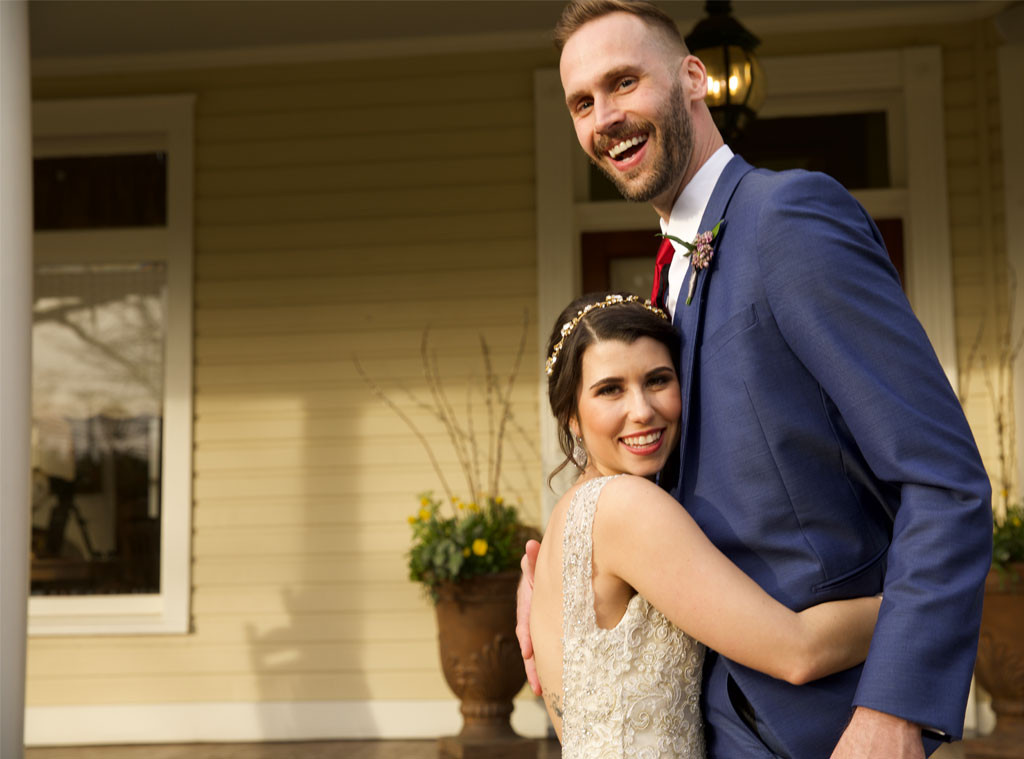 JCM Photography- Asheville, NC
Married at First Sight is back again to marry some couples at first sight. 
The Lifetime reality series returns for season nine in June and will find eight couples from Charlotte, North Carolina tying the knot, despite the fact that they're total strangers. The new season will begin with an hour-long matchmaking special, followed by the two-hour official season premiere, which will begin to follow the couples as they get to know each other after the I dos. 
They'll be guided in their new and unusual marriages by the usual experts, Dr. Viviana Coles, Dr. Pepper Schwartz, and Pastor Calvin Roberson. 
The singles who are about to become not-so-single range in age from 27 to 35. You can meet them all below!
JCM Photography- Asheville, NC
Gregory Okotie and Deonna McNeill
Gregory Okotie is 32 and was raised in Fort Washington, MD in a close-knit single-parent household with an older sister. He's ready to find a partner after years of traveling, failed relationships, and endless soul-searching. He has a strong relationship with God and is very interested in STEM, and the proven success rate of MAFS has made him optimistic that this show will work for him. 
JCM Photography- Asheville, NC
Deonna McNeill is 30, and her parents are still together. She also has a sister. She's well-established in her career, well-traveled, owns a home, has a great group of friends and family, and now just needs a partner. 
JCM Photography- Asheville, NC
Matthew Gwynne and Amber Bowles
Matthew Gwynne, 32, grew up in a loving home and his parents only recently divorced. He's an international basketball player who's gone for several months out of the year, which has affected his relationships in the past, but he's hoping the show will help him find a match. 
JCM Photography- Asheville, NC
Amber Bowles, 27, grew up with her identical twin sister and her dad. Her mom came out as a lesbian when she was four and moved to Massachusetts to find acceptance. Amber is described as "intelligent, strong-willed-bossy, and even a little bit sassy," and a tomboy who's also a hopeless romantic. She wants a cheesy TV movie ending for her love life. 
JCM Photography- Asheville, NC
Elizabeth Bice and Jamie Thompson
Elizabeth Bice is 29, and her parents have been married for 29 years. She's spent the past two years focusing on personal development and growth, and thinks her free-spirited nature will help her go with the flow. 
JCM Photography- Asheville, NC
Jamie Thompson is 35 and from a very close-knit family. He's frustrated with modern-day dating and thinks maybe a less traditional method of finding a partner will work. He's passionate about exploring the world, but decided not to get a passport until he's got someone to travel it with. 
JCM Photography- Asheville, NC
Keith Manley and Iris Caldwell
Keith Manley is 27. His parents have been married for 30 years, and Keith considers divorce to not be an option. He wants to have kids immediately, and looks up to Jay-Z and Beyonce as a couple. He hopes to mirror their relationship and grow an empire with his significant other. 
JCM Photography- Asheville, NC
Iris Caldwell is 27, and an only child. Her parents divorced when she was three. She's a virgin who's saving herself for marriage to an equal, uplifting partner, and wants to do this show because she gives so much of herself to others, and now wants to give herself that same attention. 
Married at First Sight premieres Wednesday, June 12, with a matchmaking special at 8 p.m. and the two-hour season premiere beginning at 9 p.m. on Lifetime.