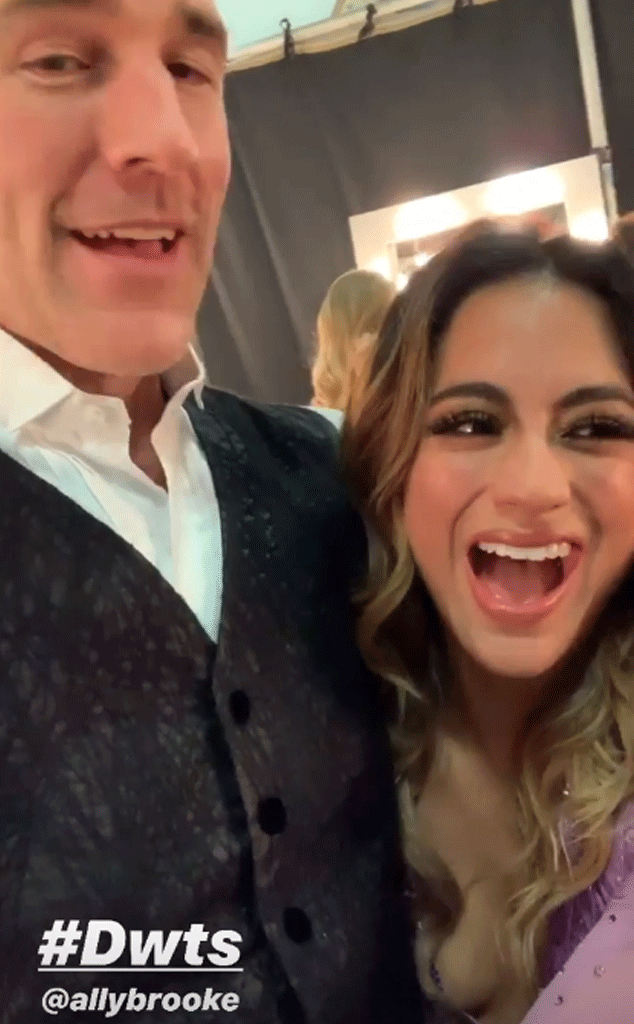 Instagram
One word: swoon!
On Monday night, audience members and viewers alike sat on the edge of their seats as they watched the Dancing With the Stars finale.
However, the moment that really stole the show was when James Van Der Beek returned to the set after being eliminated and reunited with Ally Brooke. 
As fans might recall, earlier this season the 42-year-old actor and his dancing partner Emma Slater landed in the bottom two with Brooke and her partner Sasha Farber. The judges decided to save the former Fifth Harmony member, which meant James' time on the competition show was over. 
After this decision was made, the 26-year-old singer tried to give the Dawson's Creek alum her spot in the finale.
So, of course, James and Ally's short but oh-so-sweet reunion during the DWTS finale melted everyone's heart. Moreover, the actor took to Instagram Stories to further show his support for the "Low Key" singer.
"Last week on-air, Ally Brooke tried to give me her spot in the finals. I just want everybody to know that not only did she try on-air unsuccessfully, I also heard a knock, knock, knock on my trailer door after I brought my daughter back to my trailer," he shared in a video clip, with the pop star hugging him.
He continued, "Ally came in and said, 'I'm going to quit the show. I want you to take my spot.' I absolutely, 100 percent refused because you deserve to be here… I wanted everybody at home to know this is the most sincere, lovely girl I maybe have ever met in my life."
Ally also returned the favor and offered kind words to the Pose actor. "I love you James, so much. I'm going to take your advice and shine like you told me too," she said in his video. "I love you so much. You are one of the best people I've ever met."
Before he thanked the former Fifth Harmony crooner, the 42-year-old actor did take a moment to address how he was feeling after being eliminated. He also thanked his fans and followers for showering him and his family with support after he announced his wife Kimberly Van Der Beek suffered a miscarriage.
"First off, I want to thank everybody for all the support and love that you guys have sent my way and my family's way. It really helps," he began his Instagram Stories. "We so appreciate all the messages of support and love, some of you sharing your stories of miscarriage, and some of you saying that us sharing it kind of helped out in some way. We appreciate all of it and we're just washed in gratitude."
"As for the show tonight, the finals… Thank you everybody for your outrage. Everybody who has been very upset that I'm not in the finals, that I was asked by the judges to not compete tonight. I'll be honest, it helps," he said. "I appreciated it, but I will say there is no trophy in the world that I would have traded to be home with my family this week."
He added, "And everybody in the finals worked really hard. The dances are great. So congratulations to everybody there. I think this show might have a little bit of soul-searching to do when we pick up all the confetti, but right now I want to throw my support to everybody in the finals."
The night is still young, so tune into ABC to see who wins DWTS.