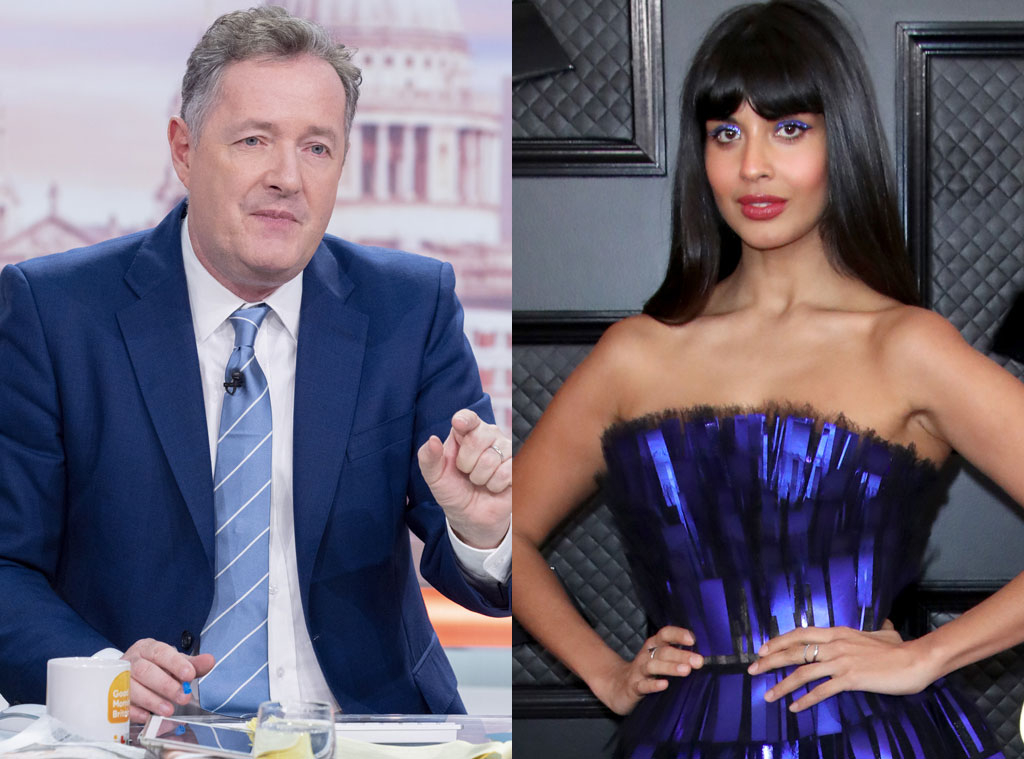 en McKay/ITV/Shutterstock; Matt Baron/Shutterstock
Piers Morgan is once again picking a fight with Jameela Jamil.
In his latest controversial tweet, the British TV host is revealing that he and the late Caroline Flack once discussed Jameela in a private conversation. Piers claims he is sharing the direct messages "in the interests of balance," since the Good Place actress has been speaking out against against online harassment. "Here is a message Caroline Flack sent me last October after the same Jameela Jamil led an online pile-on against her regarding a new TV show she was doing."
In screenshots of Caroline's messages, she allegedly bemoaned, "I'm struggling with Jameela… The hate she aims at me."
Caroline's alleged statement about Jameela took place in October, when it was announced Flack would be the host of Channel 4's new show The Sujury, a reality series in which people must convince a jury that having plastic surgery would make them happier. At the time, Jameela compared the show to the dystopian Netflix series Black Mirror. "This is why I said it was like Black Mirror @carolineflack Because it's a VERY surreal concept that (perhaps unintentionally) will prey on people's insecurities," Jameel tweeted.
Caroline seemed to take offense to the comparison and assured fans, as well as Jameela, that the series is more a "discussion show."
She shared, "As you know self image is a complicated, sensitive and personal subject. At the heart of this show are people not contestants who have sought help to want to better them selves in their own eyes. Their stories deserve to be told and not ridiculed online."
In response, Jameela clarified she was not trying to attack Caroline, but merely making a critique of a potentially harmful program. 
Jameela reminded Piers and Twitter of this when she tweeted today, "I simply said I found the show 'surjury' (not her) problematic for kids to watch. And that Love Island needed some more diversity. Both times Caroline instigated debate with ME even though I was not targeting or blaming her at all. I always just politely explained my point."
"Piers Using a dead woman who I was friends with, as a weapon to try to create further harassment for me as I've JUST explained publicly that last week I felt suicidal… is why he is this industry's most problematic . My criticizing a *show* did not aim any hate at Caroline," she continued. 
If there's anyone to blame for the online harassment Caroline endured, then Jameela is pointing the finger at the Internet and the media. Upon learning of Caroline's suicide the Good Place star stated that the "media and a prolonged social media dogpile" drove the Love Island host to take her own life. 
Moreover, on Saturday the star expressed that recent speculation about her own physical and mental health "triggered [her] to a point of near death." In a small part of a large statement, the Brit said, "I have a fragile past with suicide… Our lives are hard enough with gaslighting and abuse and I'm glad at least we know we have each other because all this s–t is out in the open."
If you or someone you know needs help, please call the National Suicide Prevention Lifeline at 1-800-273-TALK (8255).