Dave Benett/Getty Images
Something that has become obvious over the years: Irina Shayk is as tough as it gets.
"I think now a woman has the freedom to work and to be a mom and to be herself," the supermodel told E! News in October at an event for her Ellen Tracy capsule collection collaboration for Lord & Taylor. "I think it's really important to remember that a woman is the strongest one and that if we want we can manage everything at the same time.
"And it's really important to just be yourself and just remember who you are and manage everything, because we can manage everything if we want to."
That they can. And so she is since splitting up with Bradley Cooper after four years together, which required them to reinvent their relationship as committed co-parents of 2-year-old daughter, Lea de Seine Shayk Cooper.
On the surface, at least, Shayk doesn't seem to have missed a beat—and ultimately keeping busy and pressing forward, but not too quickly, are proving key to her post-split recovery. 
"Irina isn't dating anyone at the moment," a source tells E! News about the Russian-born model, who being photographed so frequently is inevitably linked to half the men she encounters. "She's focused on her daughter and spending time with her. She would like to meet someone in the future, but it's not a priority at the moment.
"She just got out of a long-term relationship and wants to take time to heal."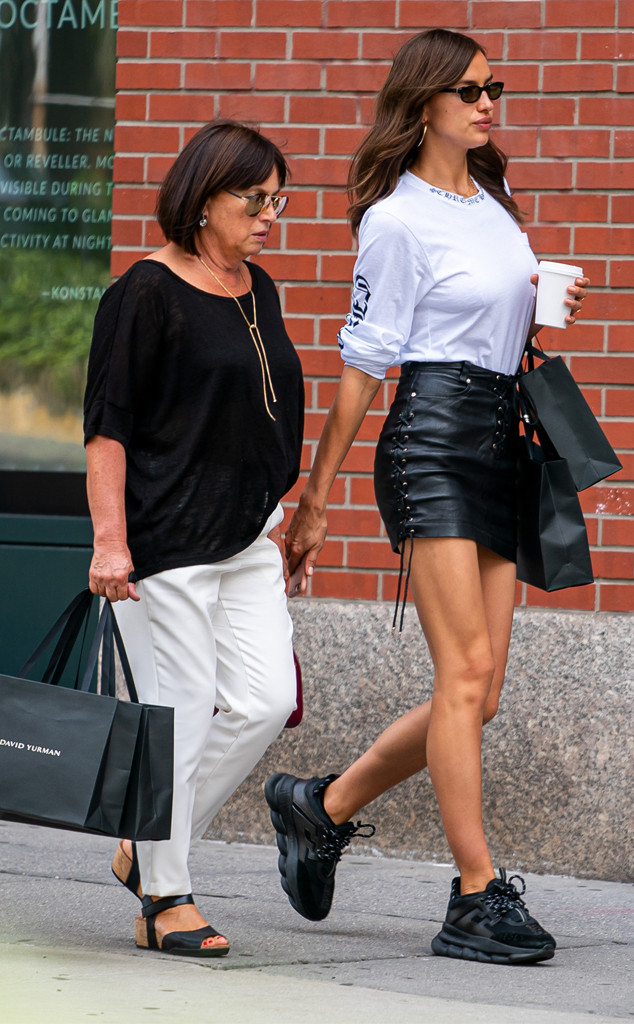 Peter Parker / SplashNews.com
Minus the magazine covers, runway shows, the trip to Iceland and 12.5 million Instagram followers… sounds as though she could be anybody!
But Shayk, while an expert multi-tasker who proudly considers her decade-plus-long career as one of the most recognizable models in the world to be the fruit of dedication and hard work, isn't doing everything alone these days, of course.
She's been getting support from her mother, Olga, who was spotted walking last week with her daughter in New York, where Irina is back to living in the West Village full-time. She and Cooper had relocated back to her home base of New York together in 2018 after spending the previous few years in Los Angeles while Cooper was toiling away on A Star Is Born, but when the actor is in town he has his own place.
Shayk has always been surrounded by strong women, be it Olga, who took on multiple jobs to care for her daughters after her husband died when Irina was 14; her big sister, Tatiana; and her two grandmothers who helped raise her. (Lea is named after Irina's paternal grandmother Galina, whose name is also tattooed on Irina's ankle; the "de Seine" is simply inspired by the river in Paris, where she briefly lived when she was first starting out, her agency giving her 40 euros a week for spending money while she went on go-sees.)
"We never had men around," she recalled to Harper's Bazaar this past spring. "You have to learn how to put a nail in the wall, how to hang the curtains. I know everything about how to plant potatoes and cucumbers because in Russia, it's how you survive the winter."
The 33-year-old, who hails from the tiny town of Yemanzhelinsk, studying marketing in college and has said that she might have pursued journalism if modeling hadn't happened, but not long after high school ended she was encouraged to enter the Miss Chelyabinsk 2004 beauty pageant—and promptly won.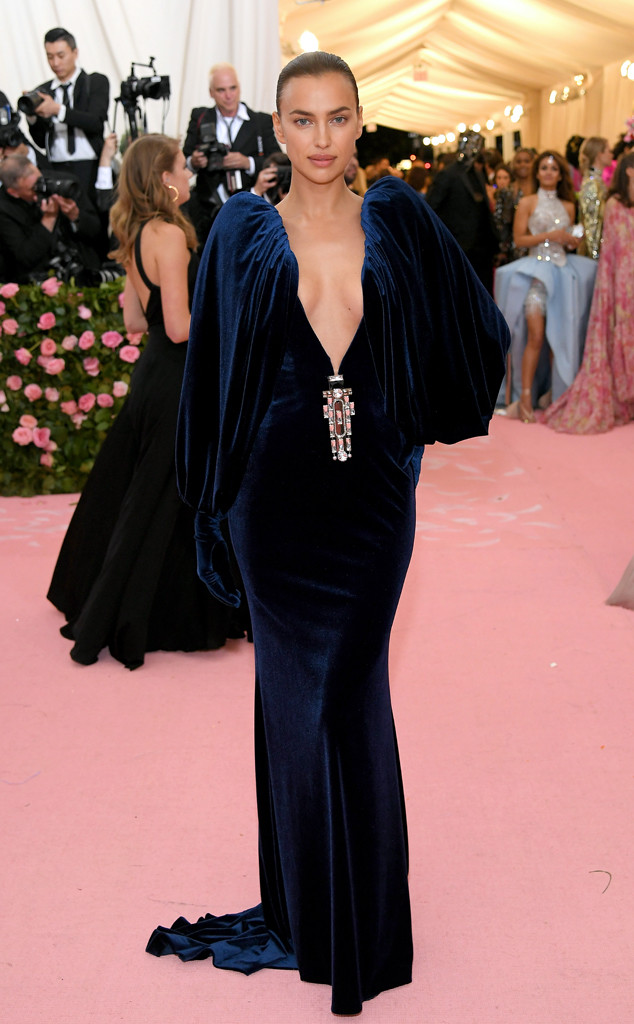 Neilson Barnard/Getty Imagess
She has since walked countless runways, including at the Victoria's Secret Fashion Show; been on the cover of the Sports Illustrated Swimsuit Issue (and featured in the annual edition 10 times); and been a face of everything from Burberry and Versace to L'Oreal Paris and Avon.
"From my childhood, in those times where there was no salary for my mom and dad, I think you're in survival mode," she told Harper's Bazaar. "It teaches you to work hard. It teaches you that nobody will come and give you something."
Shayk holds her friendships dear and pays tribute to the support of her fellow fierce ladies regularly, such as when she celebrated sharing a Vogue España cover (one of several she posed for) with Adriana Lima. "When women come together, and empower each other.. magic happens," she wrote on Instagram, calling Lima a sister.
"Women can raise the kids, women can do the job, and when she's back, she can cook and clean and do the heavy work too!" Shayk reiterated her outlook on life to Harper's Bazaar. About being a working mom, she said, "there is no real challenge. I really believe if you love something, you can prioritize your time. [Motherhood] is just an addition to your life."
And of course Shayk is getting help from Cooper, the 44-year-old actor proving to be a most devoted dad. He seems to be enjoying a break after working on A Star Is Born for four years and then riding the roller coaster of its critical and awards season success (up: eight Oscar nominations; down: not including Best Director) for another six months. That madness was capped off with the premiere in April of Avengers: Endgame, whose $2.8 billion worldwide box office made it the biggest hit of Cooper's career, probably for the forever future.
When news of their breakup broke in early June, Shayk was about to leave for Iceland for a shoot with Italian cashmere brand Falconeri, and Cooper took Lea on a father-daughter trip to Big Bear, Calif.
In such a peaceful setting, "Bradley was really relaxed and seemed like he was in a good mood, even with everything going on," a source told E! News.
He has mainly been spotted just living life for now, grabbing bites to eat with longtime friends such as Laura Dern and Anna Wintour in New York and ferrying Lea around the city. Among the projects on his to-do list: the third Guardians of the Galaxy movie; the World War II drama Atlantic Wall; and Bernstein, which he's also planning to direct and star in, about legendary composer and conductor Leonard Bernstein.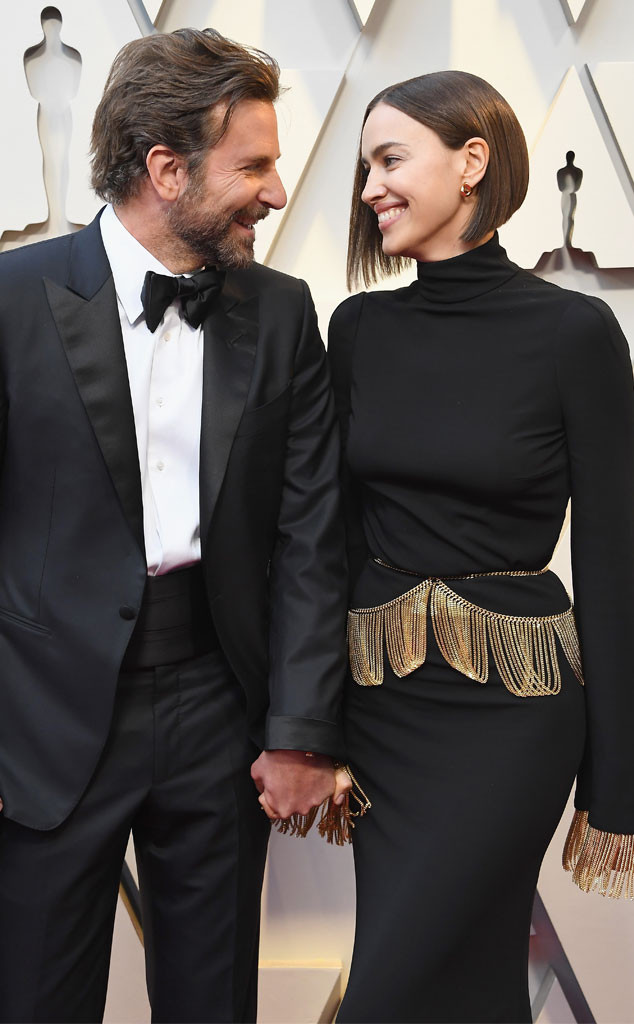 Steve Granitz/WireImage
He and Shayk share custody 50-50, their priority when they split up being having a plan for Lea, especially since she'll be starting preschool in the fall and they wanted to "keep her routine and schedule very consistent."
A source told E! News last month that Cooper and Shayk are "amicable and will always put Lea first. They hope to be able to do things together as a family and will raise her with both parents being very active and involved in her life together."
She didn't want to go into too much detail where it involved Lea, of course, but, when asked specifically, Shayk acknowledged to London's Evening Standard a year ago, "Yes, I am Russian, so I am very strict. And I am Capricorn, too, so I am super strict." More recently, she divulged that she's teaching Lea Russian and is looking forward to bringing her daughter to visit her native country for the first time.
But overall, both she and Cooper are in agreement that their family life will remain private. They were each used to dealing with an inordinate amount of attention on their own, but the interest in their lives obviously compounded once they were together.
"That's why it's called a personal life, because it's mine," Shayk put it to the Evening Standard. "I am really protective of it. I don't feel like I have to talk about it or promote it. Outside of my job, I am a normal person, and I want to walk outside of my house like a normal person. I don't want somebody sticking their nose in my stuff."
"I didn't become a model because I wanted to be famous," she added. "I worked specifically to get the money. And it happened that I had success because I worked really hard."
Earlier this year, she sounded a bit more resigned to her fate. "I think it's just human beings: if you cannot have it, you want to have it," she told Harper's Bazaar in May. "There's a curtain there, you want to open the curtain. It's curiosity I guess."
Within months of their first date there was speculation that she and Cooper were mulling marriage, but after a few years, multiple milestones had obviously passed an engagement by. "Everyone looks at it differently," she told the magazine. "Do I believe in marriage? Yes, of course. I'm not the kind of person who is against it."
Alas, she and Cooper were in the process of growing apart, not closer together. "They tried to work things out for awhile, but it just became clear the relationship was over," a source told E! News in June. "As much as they tried to rekindle what they once had, they couldn't find that spark."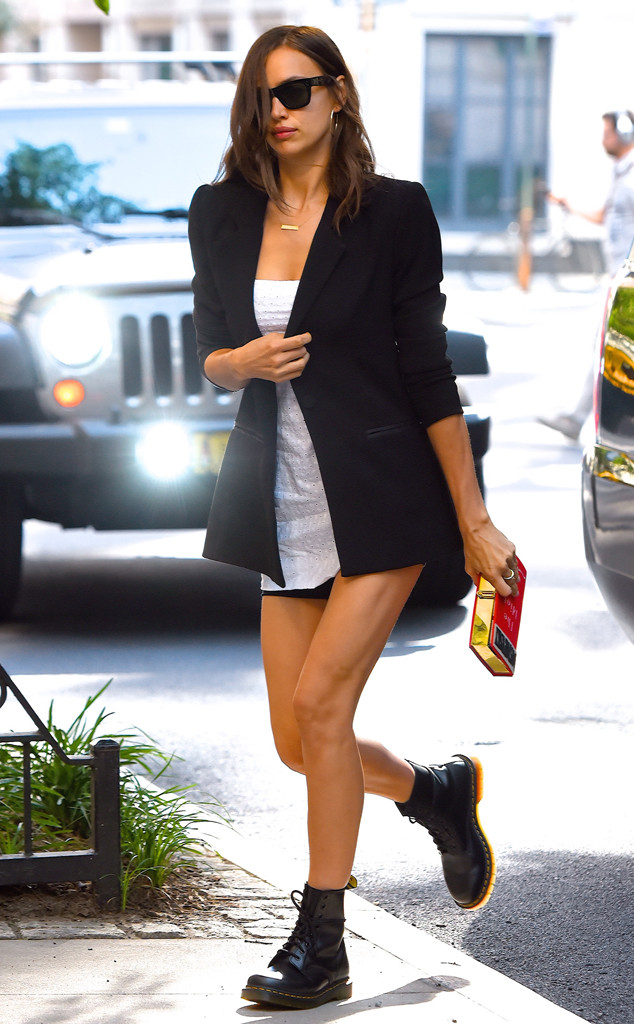 Robert Kamau/GC Images
Before Harper's Bazaar went to press, they asked Shayk if she wanted to comment on the still-to-this-day-never-commented-upon story of her breakup.
The reply: "Irina didn't comment on her personal life before, nor will she 'address recent developments' now."
Her initial interview had taken place right after the Met Gala, which, following an awards season spent primarily by Cooper's side, she attended with close pal and Burberry creative director Riccardo Tisci.
A week after the news broke in June, Shayk walked in the CR Runway x LuisaViaRoma 90th anniversary show at the Piazzale Michelangelo in Florence, Italy. And though she 's almost all-business on Instagram (be it a sexy, sexy business), she stared boldly into her future (and at a stunning lush vista) while standing tall, shoulders back, upon a boulder in her first Instagram post-split. Her back is to the camera, but you can sense the defiant look on her face.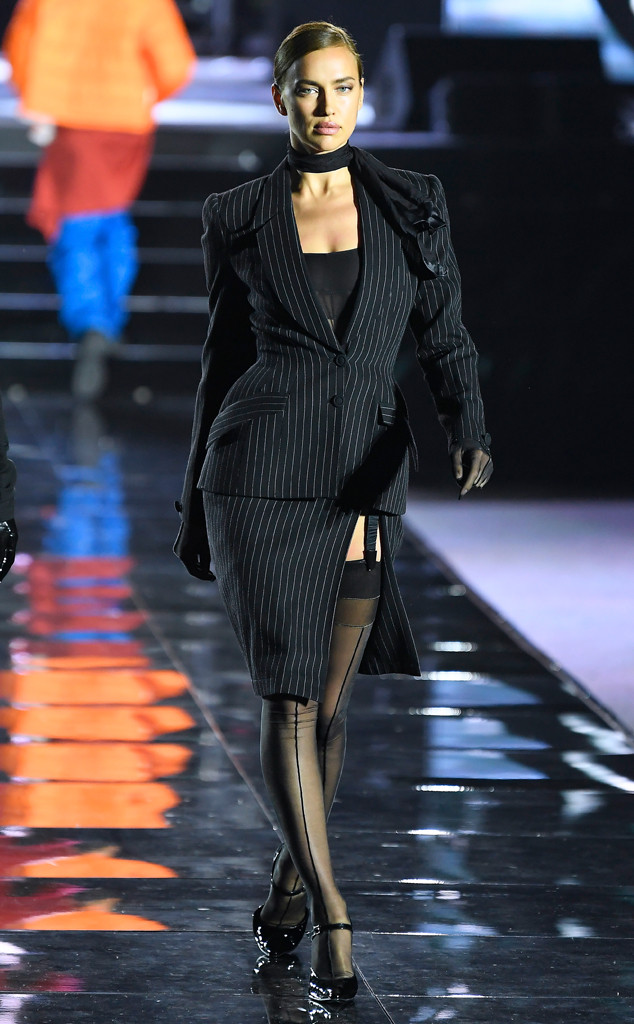 Estrop/Getty Images
Her family and friendships are especially dear because, unlike some celebrities, Shayk doesn't travel with an entourage or otherwise surround herself with people just to avoid being alone. She doesn't even have an assistant.
"People think I have a team of like 20 people, but it's going to make me more nervous to have somebody else to help me," she told Harper's Bazaar. "I think I like to be not helped." She added with a laugh, "I'm a Capricorn. I really like everything to be in place. In my house, everything is perfect."
In her spare time, she exercises (she hates cardio, but does it because she knows she'll feel good afterward, and doesn't mind Pilates, "because I call it a lazy workout—you just lie there"), watches Russian television and goes to the Russian baths, a fixture of old NYC. "I am always very proud to say I am from Russia," she told the Evening Standard.
And she will be teaching Lea how to be a self-sufficient woman like her mom, and her mother before her, and so on.
"Of course, I am not going to send her back to the village, but you can grow up in rich families, in poor families, in medium-class families and have good values," Shayk said last summer. "It's all about what you are taught. My mom and my grandma kept us grounded, and taught us manners and respect for older people. I am definitely going to pass that on to my daughter."