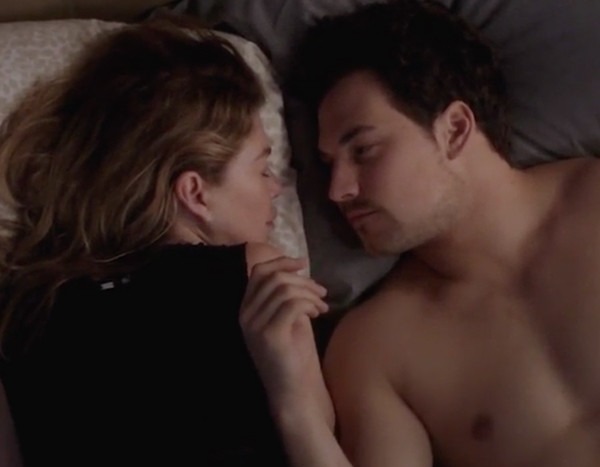 Looks like things on Grey's Anatomy are about to change. In the sneak peek above, Andrew DeLuca (Giacomo Gianniotti) is caught sneaking out of Meredith Grey's (Ellen Pompeo)—by her daughter!
"OK, you can't fall asleep here. The kids. You have to go, please," Meredith says to him. And he's off! Just like his clothes were. But there's Zola, confused and staring him down. It's an awkward moment, one that was bound to happen.
When E! News sat down with Gianniotti, he said DeLuca has matured throughout his time on the show and is prepared for the next step: father figure to Meredith's kids.
"He's definitely ready to take that on. That's something that we're sort of exploring mildly in the next coming episodes. It's a very real issue. She's a mother, that's not going anywhere, so if he's going to be with her, he's got to be able to take that on in a big way, in a real way. I think that's going to be a fun part that's going to unlock a new layer of love that Meredith has for DeLuca, once she sees that he's capable in that, I think that will really close the circle," he teased.
But that doesn't mean it's going to be an easy transition.
"We're going to take you guys on a really bumpy ride, a roller coaster of emotions," Gianniotti said at My Friend's Place Gala. "It's been fun, working with Ellen, playing a romantic relationship with her. We get along, we have great fun, and the showrunner and the writers have all really backed us and made this whole experience really fun."
Click play on the video above for more.
In the April 18 episode, Meredith debates how to handle the unexpected situation in her personal life, Richard (James Pickens Jr.) has an untimely reunion with an old friend, Jo (Camilla Luddington) has a hard time at work and Owen (Kevin McKidd) tries therapy.
Grey's Anatomy airs Thursdays, 8 p.m. on ABC.