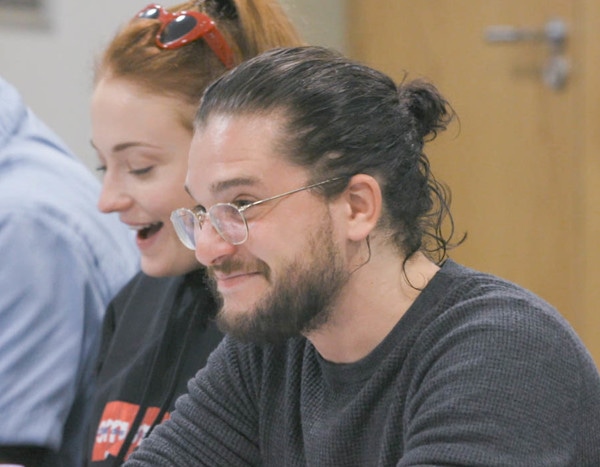 Game of Thrones is now really, truly over. 
HBO just aired Game of Thrones: The Last Watch, which documented the making of the final season of the series, and there were three things about it that we just can't get over. 
First of all, extras made up as wights but wearing sweatshirts and sitting around eating chips is hilarious and the perfect random shot to cut to at any moment. 
Second of all, the makeup artist who missed her daughter's Easter bonnet parade and Mother's Day assembly for the 55 days of night shoots should win an award. 
Third of all, watching the cast react to the end of the series is our new favorite set of GIFs. 
In fact, we made it into a set of GIFs, documenting the cast reacting to Arya's killing of the Night King and Jon's killing of Dany in a series of moments of disbelief and delightful nervous laughter. 
We know, per Emilia Clarke, that at least Kit Harington had not read the script before the table read, so the camera was on him quite a bit as he learned plot points for the first time. 
First, we saw them read through Arya killing the Night King. 
Kit gives his onscreen sister a little look while the Hound (Rory McCann) is so pumped. 
Maisie's side of the table erupts…
No one has ever been more pumped for anything than McCann in this moment. 
And Maisie Williams has never been prouder. 
And then it's time to learn about the fate of Daenerys Targaryen…
This is Kit Harington first realizing that Jon is killing Daenerys. 
This is Emilia reassuring him that yes, he read that right, he's stabbing her in the heart right now. 
"IDK!" Emilia thinks as she slides down in her chair, probably thinking this isn't going to go over well. 
And here's Kit Harington crying as they say "End of Game of Thrones." 
And here are some wights having lunch. 
Say what you want about the final season of Game of Thrones, but we'd die for this cast, these extras, the guy who plays the Night King, the woman in charge of the special effects makeup, and the guy whose job is "Head of Snow." 
Now that our watch has really and finally ended, Good Night. 
Game of Thrones aired on HBO.