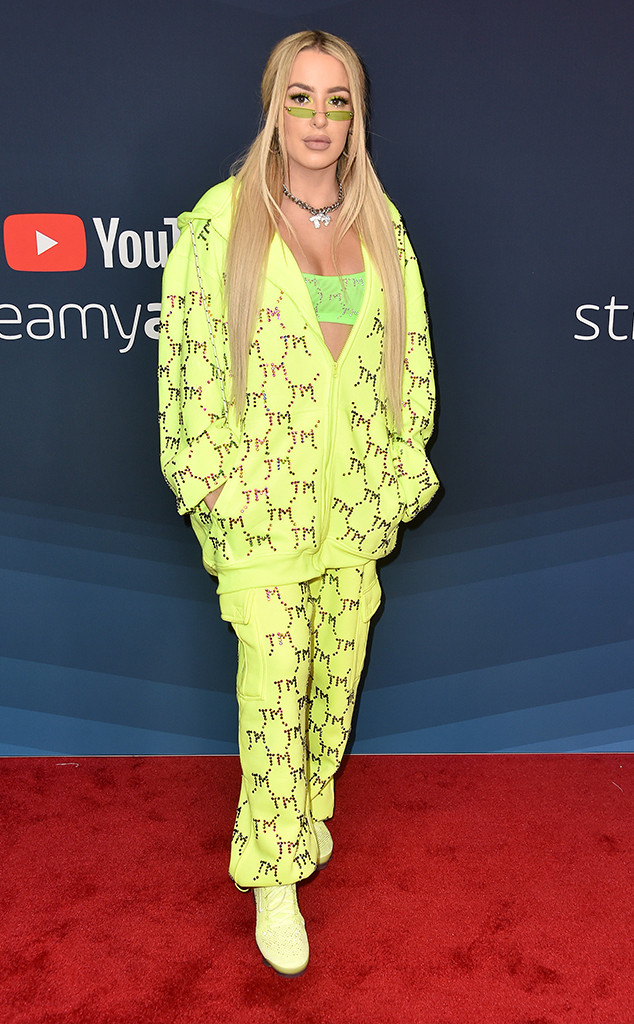 Alberto E. Rodriguez/Getty Images for dick clark productions
New couple alert?! Not so fast…
Earlier this month, YouTube personality Tana Mongeau fueled dating rumors with Noah Cyrus—yes, Miley Cyrus' younger sister. In a video, the blonde beauty referred to the 19-year-old singer as her "girlfriend."
And while that certainly created plenty of buzz, the internet star is clearing the air after sparking dating rumors with the "July" songstress.
"To be real, I think that I might have started the girlfriend stuff with some YouTube title," Mongeau explained in an interview with Entertainment Tonight at the 2019 YouTube Streamy Awards in Los Angeles, Calif. on Friday.
"I just love being around Noah. There's something about her, even before I knew her, that has always inspired me," the 21-year-old star shared. "She's so real, she's so raw. The way she turns her emotions into art and cares about mental health and was born into this life, but turns it into something beautiful, is so inspiring to me. And I love to kick it with her."
"There is no tea. Like, that is the tea on that," she continued, seemingly confirming that they were, in fact, not dating. "I literally just like to spend time with her and care about her. Everything else just kind of makes it a mess."
Aside from the recent video Tana uploaded on YouTube, which fueled dating rumors, both she and Noah have a long history together.
Back in November, the internet personality addressed her friendship with the 19-year-old singer, while also discussing her open marriage to fellow YouTube star, Jake Paul, whom she wed in late July.
When Tana was asked what was going on between her and Noah, she simply responded, "I don't know."
Moreover, nearly eight months ago, the YouTube star sparked feud rumors with the "Good Cry" singer, after claiming that Noah "hates" her because of her friendship with Lil Xan (who was the singer's ex).
Soon after, the "July" singer set the record straight and reached out to Tana.
"lol this is hilarious i deff dont hate you and for sure turned the opposite direction of you no shoulder check," Noah tweeted in May. "lets hangout and talk about how bitchy girls are to other girls @tanamongeau dm me."
Despite their interesting relationship, it looks like the two superstars are simply gal pals!