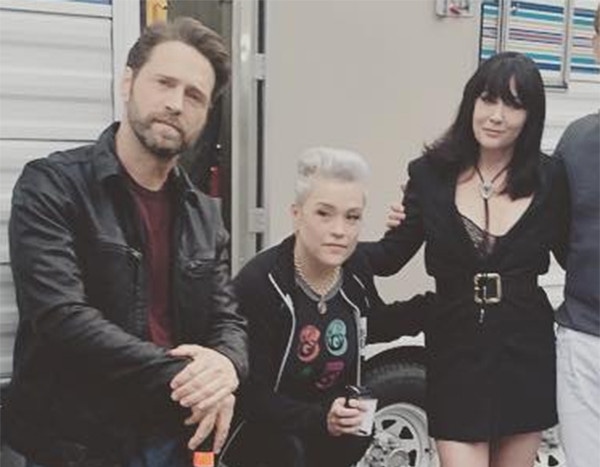 Guys, we are this close to returning to the Peach Pit!
Shannen Doherty posted on her Instagram page new behind-the-scenes photos of her with fellow Beverly Hills, 90210 alumni hanging out by the trailers on the set for FOX's upcoming limited series reboot, BH90210.
The pics show Jason Priestley—who played her character Brenda Walsh's twin brother Brandon Walsh, Brian Austin Green—aka David Silver), Ian Ziering—aka Steve Sanders), Gabrielle Carteris—aka Andrea Zuckerman and who now the real-life president of the actors' union SAG-AFTRA, and Christine Elise—who had a recurring role as Brandon's troubled love interest Emily Valentine. Elise and Priestley also dated for five years in real life.
"Band photos #bh90210," Doherty captioned the pics.
"I have known these folks for 28 years. Crazy. And #awesome!!!" Elise wrote. "Thanks for the photo, @theshando !!! #bh90210 @bh90210 #davidsilver #brandonwalsh #emilyvalentine #brendawalsh #stevesanders #andreazuckerman @arent_you_that_guy @jason_priestley @ianziering @gabriellecarteris #beverlyhills90210 #90210 #nightshoot #nightshoots #bts."
Late last month, the actress brought the nostalgia when she shared a photo of her and Priestley together.
Doherty starred on the original series from its 1990 pilot to 1994, when she was fired from the show after clashing with cast mates, and signed onto the reboot a few months ago. Everyone in her pics but Elise are also original cast members.
BH90210 is also bringing back co-starsJennie Garth and Tori Spelling.
"Where was I? Xoxo," Spelling commented on Doherty's photo.
Luke Perry, who played Dylan McKay and died in March at age 52 after suffering a stroke, had never signed on for the new show, reportedly due to contractual obligations to his last series, the CW's Riverdale.
In May, Spelling posted on Instagram a BH90210 promo photo of herself with the original cast, minus Perry.
Also May, Green shared a photo of the exterior of the Peach Pit, the show's main hangout, writing, "Pretty f-n nostalgic :))." 
He wrote on May 27 that the group began shooting the new series that day.
The cast members are set to play "heightened versions of themselves" in BH90210.
"There's gonna be hints of some of the things that occur in our real lives, but they'll be exaggerated," Ziering told E! News in May. "The stakes'll rise, the tensions will permeate through different story lines. We'll bring together a lot of comedy, some drama, in a way that really it's more assisted reality, heightened reality than a complete reboot. But it's going to be us coming together to get the show back on the air."
"So the idea is we're playing ourselves eventually recreating a reboot of 90210," said Green.
The new show also stars franchise newcomers Vanessa Lachey and La La Anthony.
BH90210 is set to premiere on FOX on August 7.