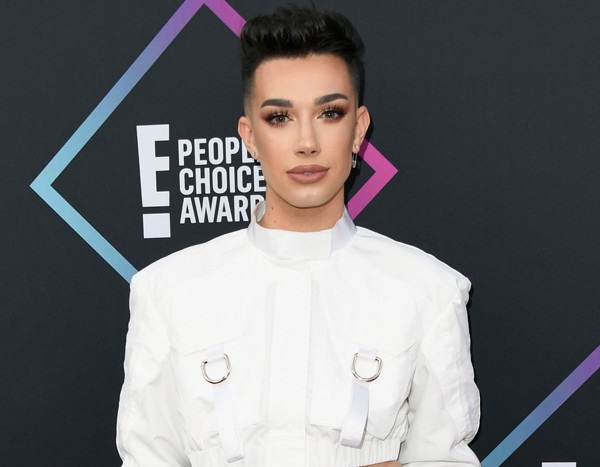 While we all would love our own personal makeup artist, some of YouTube's best beauty influencers make us feel like we can at least achieve being glam on our own.
At this year's E! People's Choice Awards, eight nominees will face off to bring home the award for The Beauty Influencer of 2019. For anyone who hasn't attended one of Beautycon's infamous gatherings though, you may need a primer on who these famous beauty artists are and why they are so, well, influential.
The nominees all have impressive YouTube channels where they upload a variety of makeup tutorials, challenges, collaborations and peeks into their personal lives. Fans of theirs line up for hours to see them at meet and greets or purchase $250 tickets to get VIP status at conventions to be near them.
While the format and platform of their content may be similar, they all differ in how they approach their content and who they represent with their voice.
While each nominee on this list can point to a collaboration or brand deal they've landed, only you get to decide which one will get the PCAs title, too.
Head to the official People's Choice Awards voting site or take to Twitter to cast your ballot.
Be sure to tune into the live show on Nov. 10 to see who walks home with the trophy.
James Charles
The YouTuber launched to fame practically overnight after one of his tweets—where the then 17-year-old beauty lover shared that he retook his senior photos with a ring light to glam results—went viral.
Now, the makeup artist has 16 million followers (or, as he calls them, "sisters") on YouTube, where he posts frequent tutorials, challenges and lifestyle vlogs. He also has been a trailblazer in the industry, serving as the first male ambassador for CoverGirl and releasing his own eyeshadow palette with Morphe. 
Charles' willingness to document everything from beauty looks to YouTuber drama is all a part of his appeal and his openness online may be why he won this award at last year's People's Choice Awards.
Nikita Dragun
The vlogger joined YouTube in 2013 and has since amassed 2.6 million subscribers who watch her videos which cover everything from makeup, family life, YouTuber friendships and more.
Nikita also is an important voice on YouTube for representation, as the content creator is transgender. In fact, Nikita publicly shared that she was transgender on YouTube in 2015 and has since shared other videos documenting her experience, such as detailing her facial feminization surgery and sharing "storytimes", like an upsetting incident when she was kicked out of a party for being trans.
Nikita recently launched her own beauty line, Dragun Beauty, and her face palette hit shelves on October 7. 
NikkieTutorials (Nikkie de Jager) 
After her 2015 YouTube video "The Power of MAKEUP!" garnered 40 million views, it was clear that Nikkie de Jager was no ordinary beauty influencer.
The outspoken artist has clapped back at those who shame people for loving makeup, stating that "I just want people to know that makeup is fun!" Her passion for makeup has led to a dedicated following of over 12 million subscribers who love to watch her makeup tutorials that sometimes include celebrity cameos! Snoop Dogg, Nicole Richieand Becky G are just some of the famous names who have collaborated in some way with the YouTuber on her channel.
The digital celeb also shares her personal life with her fans, including the exciting news earlier this year that she got engaged!
Jeffree Star 
One of the beauty industry's biggest names, Star is likely the richest on this list. After all, the docuseries The Secret World of Jeffree Star produced by fellow YouTuber Shane Dawson gave us all a sneak peek into Star's mansion (one of his three homes, by the way) where Star revealed his designer handbag collection would be guarded by a real bank vault door.
The beauty entrepreneur has his own line of makeup called Jeffree Star Cosmetics that includes lip shades, star-shaped handheld mirrors and eyeshadow palettes. Recently, Dawson released the first part of his The Beautiful World of Jeffree Star series, where he follows Star throughout the process of what it is like to launch a beauty product while navigating the drama and YouTuber feuds common in the industry.
RCL Beauty (Rachel Levin)
Springing onto the scene when she was only 15 years old, Levin has become one of the biggest names in beauty and lifestyle on YouTube.
Her fast-growing subscriber count is often attributed to her more wholesome, relatable personality in the YouTube community as well as her channel including content like comedic sketches and self-produced PSA videos that show her fun, empathetic personality. 
Desi Perkins
The Mexican-American beauty artist has a collaboration with Quay sunglasses, the Dose of Colors cosmetics line and was even featured in Apple's Memoji ads. All that success is impressive, but what's even crazier is that Perkins beauty career was by accident.
"I was always into sketching and painting so one year when Steven had a Halloween party but no costume I discovered a special effects video on YouTube," she told People magazine in 2018. Now, the Mexican-American influencer has nearly 4 million Instagram followers and another 3.3 million subscribed to her YouTube channel. 
Jackie Aina
The 32-year-old beauty vlogger is both a professional makeup artist and army veteran, so it's no surprised that she both knows how to serve a great look and have the confidence to call out the industry when it fails its fans.
When Tarte Cosmetics unveiled a foundation line in 2018 that had very few shades that catered to darker complexions, Aina called them out in an emotional video on her channel. Aina's commitment to inclusivity in the industry made her the perfect fit to collaborate with Too Faced the same year to expand their Born This Way foundation range.
With additional collaborations with brands like Anatasia Beverly Hills and a following of over 3 million on YouTube alone, Aina's bold, influential voice makes her one of the most influential personalities on the Internet.
Bretman Rock
The turtle-obsessed Filipino influencer has over 20 million followers between YouTube and Instagram and it's no wonder once you've seen one of his videos. His high-energy, funny uploads immediately make you feel like he's one of your best friends.
Bretman Rock is also his real name. In a cute interview with KITV, he tells the Hawaiian news station that, ""My dad was obsessed with wrestlers, and he liked Bret Hart and the Rock, so that's how he got Bretman Rock." 
After one of his contouring videos went viral, the content creator essentially became an overnight success, with his fans sticking around to see his videos that include drag makeup tutorials and stunts like buying fans cosmetics at Sephora. 
The influencer also just made his NYFW debut, sitting front row at the Christian Siriano, Jeremy Scott and Brandon Maxwell shows. He also keeps his Instagram followers constantly entertained with the pole he installed into his home, giving followers Hustlers energy like when he spun around in a witche's hat to kick off spooky season in October.
Watch the 2019 People's Choice Awards Sunday, Nov. 10 at 9 p.m., only on E!