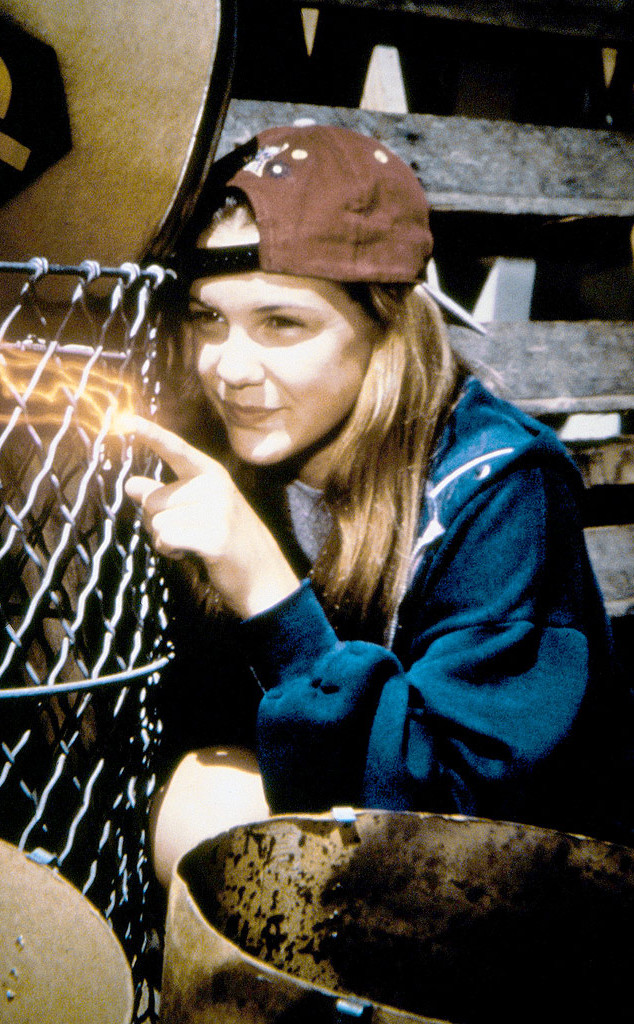 Nickelodeon
25 years ago, kids everywhere fell in love with a teenage girl with telekinetic powers who could turn into a mobile puddle of goo at will.
When The Secret World of Alex Mack debuted on Nickelodeon on October 8, 1994, the thrilling series not only became one of the network's most-watched series, but created a teen idol out of star Larisa Oleynik, who would remain a favorite for millennials long after the show had gone off the air and roles had seemingly dried up for the young actress. 
For every Nick star like Ariana Grande or Melissa Joan Hart or Keke Palmer—you know, those who never really went away and only managed to get more famous once their time on the network ended—there are those like Larisa who seemingly faded away into, if not complete obscurity then minor anonymity. But the thing is, for the most of them, they were still out there, doing there thing. We just had to know where to look.
In honor of Alex Mack's 25th anniversary, let's check in on 10 of our favorite Nick stars!
Nickelodeon/Getty
Larisa Oleynik, The Secret World of Alex Mack
Since starring as the coolest girl who could turn into goo for four seasons from 1994-98, Larisa went on to star in films like 10 Things I Hate About You, 100 Girls and Atlas Shrugged: Part II. She's also appeared on series like Hawaii Five-0, Pretty Little Liars and Mad Men. After appearing in two episodes of Netflix's Trinkets this year, she was cast in the upcoming single-camera family comedy The Healing Powers of Dude for the streaming service.
Irene Ng, The Mystery Files of Shelby Woo
After starring as the titular character for four seasons from 1996-98, Irene left her acting career behind to pursue a degree at Harvard University. The Malaysian-born actress began working as a senior financial adviser for international clients at Merrill Lynch in Manhattan until 2006 and went on to found the Mencius Mandarin Preschool in 2009 which offers English-Mandarin bilingual education for young children. The wife of David Rosa, whom she married in 2008, she teaches there to this day.
Getty Images
Omar Gooding, Wild & Crazy Kids
As one of the original hosts of the Nick game show from 1990-92, the younger brother of Cuba Gooding Jr. went on to maintain a steady acting career, starring in shows like Hangin' with Mr. Cooper, Smart Guy and Miami Medical. In 2012, he began starring in Bounce TV comedy Family Time, which is heading into season seven on October 9, 2019. 
Getty Images
Michael Maronna & Danny Tamberelli, The Adventures of Pete & Pete
As stars of one of Nickelodeon's first original live-action comedies, born out of a series of popular interstitial shorts, Michael and Danny appeared as brothers with the same name for three seasons from 1993-96. Michael acted very sporadically until 2004, when he began working as an electrician in films and TV shows shot in New York. Danny, of course, went on to join the cast of All That, appear as panelist on Figure It Out and provided voice work for 2002-04 cartoon Fillmore! In 2013, the two began co-hosting the podcast The Adventure of Danny and Mike.
Getty Images
Kel Mitchell, Kenan & Kel
After Kenan & Kel came to an end in 2000, the former All That star began providing voice work in shows like Clifford the Big Red Dog, Pink Panther & Pals and Robot Chicken, while appearing on Nick shows like Henry Danger, Sam & Cat and Game Shakers. He and former co-star Kenan Thompson teamed as executive producers for the 2019 reboot of All That, which he's appeared on three times. This fall, he began competing in the 28th season of Dancing With the Stars where, as of press time, he remains in the competition. He married rapper Asia Lee, his second wife, in 2012 and welcomed a daughter in 2017.
Shutterstock/Getty Images
Jennette McCurdy, Sam & Cat
After her iCarly spinoff Sam & Cat came to an end in 2014, Jeanette went on to star in Canadian series Between, which was streamed in the US on Netflix, for two seasons. Though it was never officially canceled, there's been no news on the series since August 2016. She's gone on to release a handful of short films she both wrote and directed and last starred in the 2018 film Little Bitches, which was released on VOD. After revealing her struggles with an eating disorder earlier this year in an emotional piece article written for Huffington Post, she announced in late September her plans to start a podcast about eating disorder recovery.
Shutterstock/Getty Images
Josh Peck, Drake & Josh
After Drake & Josh, Josh has appeared in films like The Wackness, Red Dawn and The Wedding Ringer, starred in Fox's short-lived 2016 comedy Grandfathered, and provided voice work in Teenage Mutant Ninja Turtles, Trolls: The Beat Goes On! and Lego Star Wars: All-Stars. The host of podcast Curious with Josh Peck, he married longtime girlfriend Paige O'Brien in June 2017 and welcomed son Max in December 2018.
Shutterstock/Getty Images
Drake Bell, Drake & Josh
After rising to fame as a featured performer on The Amanda Show, Drake was cast alongside co-star Josh Peck on Drake & Josh, which ran for four seasons from 2004-07. Since then, he's maintained a rather consistent music career, releasing his most recent EP in 2017, while providing the voice of Spider-Man in series like Hulk and the Agents of S.M.A.S.H. and Ultimate Spider-Man. He's also not afraid to flaunt his insane abs.
Shutterstock/Getty Images
Miranda Cosgrove, iCarly
After breaking out as little sister Megan Parker on Nick's Drake & Josh, Miranda landed her own show with 2007's iCarly, which ran for six seasons through 2012. Since the series wrapped, she's kept a relatively low-profile, continuing to provide the voice of Margo in the Despicable Me franchise while landing roles in sitcom pilots that either failed to launch or were axed after just one season, as happened with 2016's Crowded. She also made time to attend USC, though it's unclear if she's completed her degree as of press time. She'll be seen next in indie sci-fi film 3022, to be released later in 2019.
Shutterstock
Victoria Justice, Victorious
After a breakthrough role on Zoey 101 lead to four seasons starring as Hollywood Arts High School student Tori Vega in Victorious from 2010 to 2013, Victoria starred in MTV's short-lived 2015 series Eye Candy and Fox's 2016 adaptation of The Rocky Horror Picture Show. Recently, she's recurred on a Facebook Watch series called Queen America, guested on American Housewife and appeared in 2019 indie film Summer Night. A frequent attendee of New York Fashion Week, she was front and center at several shows this past September.
Don't miss E! News every weeknight at 7, only on E!