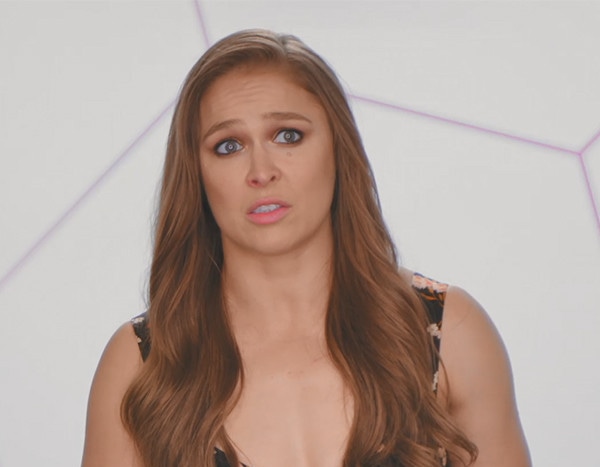 Ronda Rousey can have it all and then some. As an Olympian, combat sports legend and women empowerment icon, the athlete has piloted a no-stone-left-unturned career spanning well over a decade and inspiring many. All before her 33rd birthday, too!
But with a myriad of professional titles, happy home life and big-time WWE milestone almost under her belt, Tuesday's Total Divas saw the longest-reigning Raw Women's Champion plotting her next move: starting a family.
"When I first came to the WWE, I had no idea what I was getting into at all," Ronda admitted during this week's episode, which saw WWE's talent roster gearing up for WrestleMania 35. Roughly seven months later, in real life, most pro wrestling enthusiasts probably know that her performance at this year's program would be Rousey's last with the WWE, marking the indefinite end of what was ultimately a year-long stint at the company.
"I made a decision about my future and life and everything," she told Total Divas cameras, after having earned her spot opposite fellow superstar Becky Lynch in WrestleMania's historic headlining match.
"In a strange way, I feel like my job is done," Rousey said of the opportunity, which felt like a win regardless of outcome. WrestleMania is widely considered WWE's flagship pay-per-view, but this match was an especially big deal. For the first time in its 35-year history, the annual program had booked two female superstars to compete in its coveted main event slot.
The history-making moment followed a lengthier string of triumphs for WWE's women's division, which has seen a more-than-well-deserved spike in visibility since Ronda's debut at WrestleMania 34. Six months earlier, she headlined WWE's first-ever all-women's pay-per-view in a similarly historic match against veteran superstar Nikki Bella.
"I'm gonna do everything that I can to bring a spotlight to the women's Evolution," vowed Rousey, who continued to train for this year's WrestleMania moment with intents to do just that. As for her post-performance plans, though: "Then, I'm gonna go have a baby."
Audiences who've kept up with Total Divas' current season know this isn't the first we've heard of Ronda and Travis Browne's plans to expand their family, on TV or in real time (weeks after WrestleMania 35, Rousey explained her decision to fans in a YouTube vlog alongside her husband). But on the heels of such a triumphant first year, we didn't expect goodbye—or even goodbye for now—to come so soon.
As it turned out, neither did Nattie Neidhart, who told Rousey she "can't imagine" the women's division without her when the stepmom of two eventually revealed, "I think after Mania, we're gonna start trying to have a baby."
In the moment, Nattie congratulated her friend and co-worker on an exciting step for the Browsey clan. But during a confessional interview later on, the third-generation wrestling pro aired some concerns about Ronda's departure.
"OK, so Ronda is gonna be leaving WWE after WrestleMania? Then what?" she wondered aloud, clearly surprised by the news and worried about how Rousey's exit would go on to impact the Raw brand as a whole.
"The focus, on Raw especially, has been on Ronda," Nattie continued. "So, to lose her, it's gonna be a big void in the division."
See how everything went down this week—including Nia Jax's ceasefire and Jim "The Anvil" Neidhart's Hall of Fame induction announcement—in the full recap video above!
Watch a brand new episode of Total Divas Tuesday at 10 p.m., only on E!