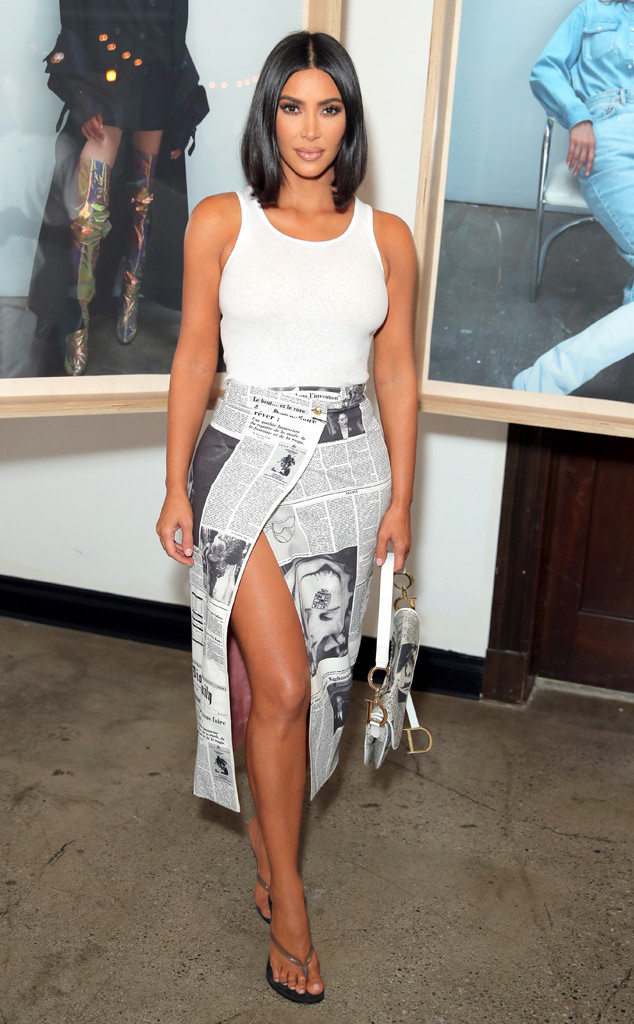 Chelsea Lauren/Levis/WardrobeNYC/Shutterstock
Kim Kardashianis standing by her decision to name her shapewear line Kimono.
In a statement to the New York Times the KKW Beauty founder is addressing the accusations that she is culturally appropriating the term Kimono. Since announcing the launch of the shapewear line, Kardashian has come under fire for misrepresenting the traditional Japanese garment and trying to trademark Kimono, especially considering it's place in the history of Japan. Moreover, some people appeared to find it disrespectful that she used the word kimono in connection to images of women in their undergarments.
While the moniker is partly inspired by her first name, similar to her Kimoji line, it is also derived from the traditional garment. In her statement, she shares,"I made the decision to name my company Kimono, not to disassociate the word from its Japanese roots but as a nod to the beauty and detail that goes into a garment."
"I understand and have deep respect for the significance of the kimono in Japanese culture," the 38-year-old explains. 
She adds, "My solutionwear brand is built with inclusivity and diversity at its core and I'm incredibly proud of what's to come."
The already popular undergarment collection is set for release in July and will include bras, bodysuits, briefs and shorts. However, Kim insists that despite the name she does not intend to "design or release any garments that would in any way resemble or dishonor the traditional garment."
Kardashian also clarifies that her decision to trademark the name does not "preclude or restrict anyone, in this instance, from making kimonos or using the word kimono in reference to the traditional garment." 
Watch part two of the Keeping Up With the Kardashians two-part season finale Sunday at 9 p.m., only on E!