Back on?
Jessie J raised eyebrows over the weekend with her tribute to her recent ex, Channing Tatum. The Magic Mike star celebrated his 40th birthday on Sunday, April 26, and received a sweet shout-out from the "Domino" singer on social media.
"Happy 40th birthday to this special man right here," Jessie wrote alongside a photo of Channing in the water. "I am so grateful you were born, and even more grateful that we met."
Jessie also shared a video of Channing jumping into the water, writing, "Keep living your BEST life!"
It was just revealed earlier this month that the celeb couple had called it quits for a second time. The talented stars first sparked romance rumors in 2018 and split about a year later. Channing and Jessie later got back together in Jan. 2020 before breaking up once again.
As for the reason behind the second split, it seems as though things just didn't work out.
A source close to Channing previously told E! News that the two got back together for a little while to try and make it work "but the same issues were still popping up." The insider also added that "they love and care about each other" but just didn't work as a couple.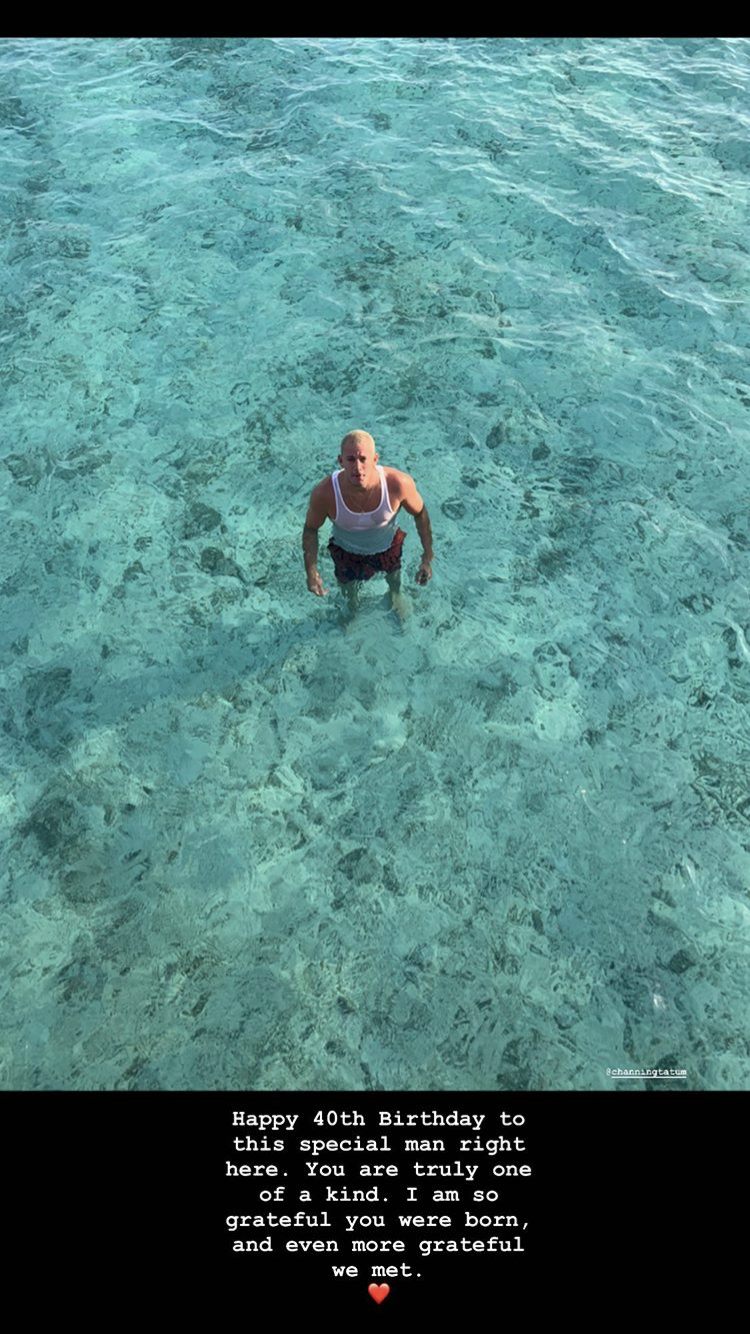 Instagram
A separate source also shared with E! News that Channing and Jessie's breakup was "amicable and that they "realized they were better off as friends."
It was also shared that Channing, who was previously married to Jenna Dewan, is back on his Raya dating account. The actor had previously set up the account on the popular celeb dating app last year.
As fans speculate about the status of Channing and Jessie's relationship status, let's take a look back at the couple's romance over the years.
Masatoshi Okauchi/James Shaw/REX/Shutterstock
New Beginnings
Six months after announcing his separation from longtime wife Jenna Dewan, E! News confirms Tatum has hit it off with the British pop star. Explains our source in Oct. 2018, "He's making a lot of effort and wants to spend as much time with her as he can. He's having fun with it and seeing where it goes. He's known her for awhile and always thought she was very talented."
REX/Shutterstock
Jenna Weighs In
After Channing goes public with his newfound romance and fans draw comparisons between Jessie and Jenna's similar appearances, both women put an end to the drama.
"I am so disappointed and embarrassed that my name is even involved. It's not something I stand for, at all," Jessie writes on Instagram. "I don't take stories like this lightly. Because I know the kind of impact it has on younger girls reading it." The Step Up star responds, "Amen Jessie! Yes!!!!! Women for women all the way. No need for negativity. Let's live in a world where we support each other and raise each other up. Like i said before, positive vibes all the way."
Instagram
Birthday Wishes
"Wishing you the happiest day filled with all the love and all the light," Channing captions a black and white snapshot of his girlfriend on her 31st birthday. "You came into this world on this day and lit it on fire. You have blessed our eyes, our ears, our hearts and our lives. So thank you for just being you. You are so very special. Happy birthday Baby."
James Watkins / BACKGRID
Heating Up
After several months together, a source tells E! News that things are better than ever between Jessie and Channing: "They are smitten and don't want to spend time apart. He has fallen hard for her and can't get enough. Things are going very well between them."
Marksman/ Snorlax / MEGA
Disney Magic
The lovebirds pack on the PDA during a trip to Disneyland in May 2019. 
Instagram
O-M-G!
"I lost a game of Jenga to Jessica Cornish," Channing writes alongside the NSFW picture, taken by Jessie, which shows him naked in the shower. "The loser (me) had to post a picture the other person (Jessica Cornish) picked… Smh and fml… I'm never playing Jenga with her ever again…"
Dean / SplashNews.com
Her "Chan"
In a June 2019 interview with the London Times, Jessie reflects on the start of their relationship and calls his daughter Everly "absolutely lovely." The performer shares, "Chan and I got photographed before our relationship was even a thing and that created such pressure. We've needed time to get to know each other. We've just had our first holiday together, which was wonderful, but that's all I'm saying."
Instagram
Taking It Slow
At the time of their one-year anniversary, an insider close to Channing and Jessie sheds new light on their private dynamic: "As much as they love being together, they aren't thinking too much about making a major commitment. They aren't there yet, but they love their life together and what they have. He loves seeing her perform and traveling with her. They have a good thing going."
Instagram
Parting Ways
Just days before Christmas, a source confirms to E! News that the practically inseparable pair have split. That said, we're told Channing and Jessie remain good friends. 
Instagram
Let's Give It Another Go
In January, a source tells E! News exclusively that the pair is back together. "They took a few weeks apart but ultimately decided they really care about each other," the insider shares. 
Take a look at their romance rewind above!