Live from Hollywood…it's Colin Jost and Michael Che!
The comedic duo, who anchor Weekend Update on the longrunning NBC sketch show, made their awards show hosting debut at the 2018 Emmys on Monday night, guiding viewers through TV's biggest night. 
Jost, 36, and Che, 35, proved to be solid anchors for the audience throughout the long night, often acting as the straight men to their more over-the-stop scene partners, which, of course, included a lot of their Saturday Night Live co-stars.
In a smart (and very SNL-move, which is fitting considered Lorne Michaels executive-produced the show), the night opened with a big musical number called  "We Solved It," which centered on Hollywood's ongoing diversity issue. Current SNL vets (and nominees) Kate McKinnon, Kenan Thompson and Aidy Bryant, as well as celebs like Tituss Burgess, Kristen Bell, Sterling K. Brown, RuPaul, Andy Samberg, Ricky Martin and John Legend all participated.
 And no, we didn't forget to list Jost and Che, who aren't known for their musical prowess, so it was actually a smart move to have them come in after the performance to keep the laughs going with their back-and-forth banter.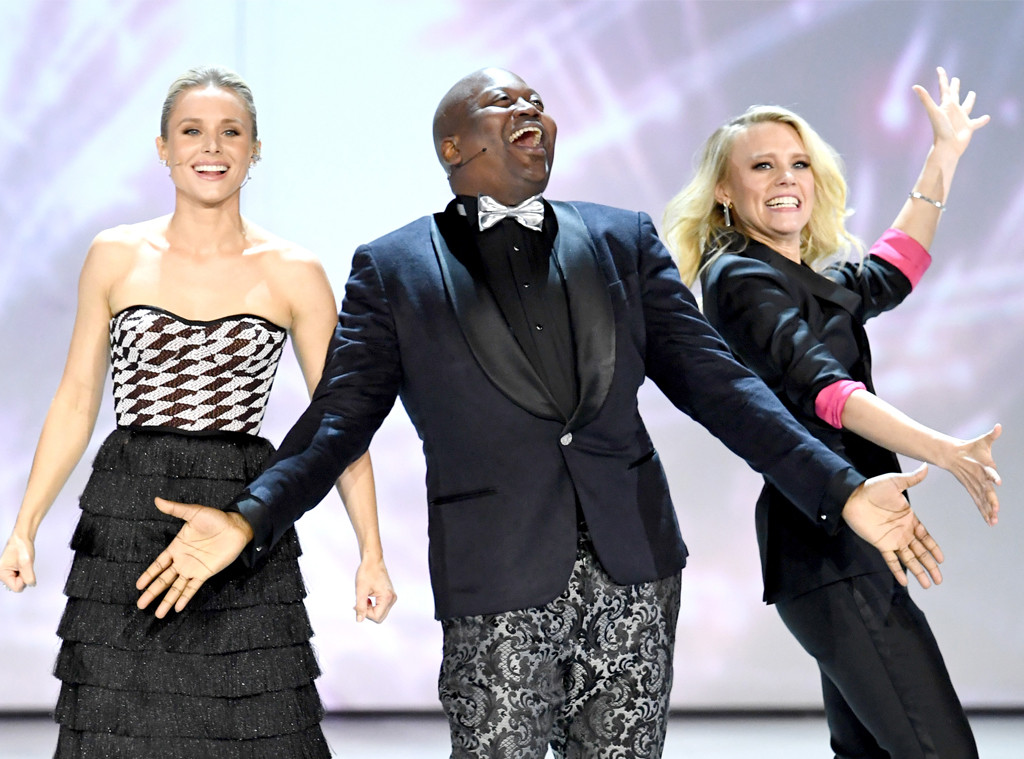 Kevin Winter/Getty Images
Their opening monologue tackled a whole bunch of relevant topics, including diversity, with Jost joking, that "an all-white reboot of Atlanta called 15 miles Outside of Atlanta" would be going to TV soon, "and it focuses on white women who call the police on the cast of Atlanta."
They also commented on the recent controversy surrounding Roseanne Barr and the constant reports of sexual assault and abuse in Hollywood.
When commenting on Netflix receiving the most nominations of any network, Jost said, "If you're a network executive, that's the scariest thing you can possibly hear except maybe, 'Sir, Ronan Farrow is on line one.'" TRUTH. 
Che also welcomed everyone to the show by saying it was an honor to share the night with the "many, many talented and creative people in Hollywood who haven't been caught yet."
Another great Che joke was about The Handmaid's Tale, with the comedian saying the Hulu drama "takes place in an imaginary future where an entire group of people is violently forced to work and make babies against their will. It's what black people call "History." It's Roots for white women, that's what it is. It's Roots with bonnets."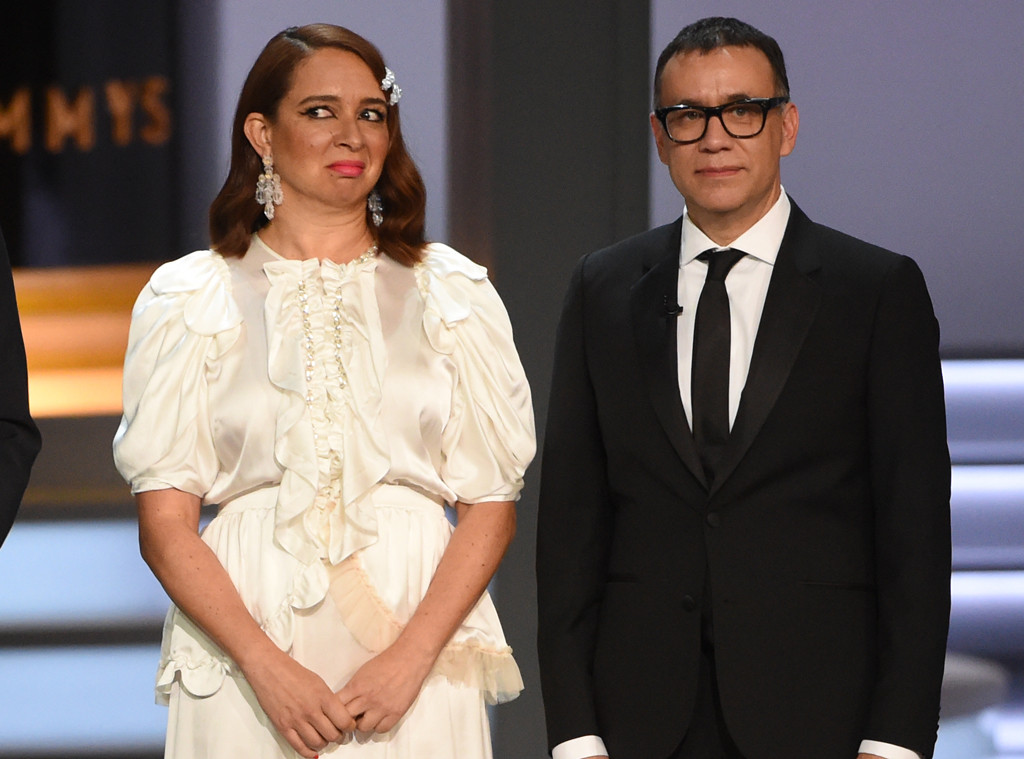 Phil McCarten/Invision for the Television Academy/AP Image
During the show, Jost and Che continued to turn it over to their good friends (and SNL vets) Maya Rudolph and Fred Armisen, who star on Amazon's new series Forever, for their expertise on all things Emmys. Spoiler alert: They didn't really do their research. When Che joked that it sounded like the twosome had really prepared, Armisen simply said, "I'm glad it sounds like it."
After bragging about their TMFI aka "too much fascinating information," the "Emmy experts" posted up at a table backstage with smoothies for the rest of the show. (Armisen also called them "salad detectives" when they darely pointed out that they were eating during their segment.) 
It was classic Weekend Update, where Che and Jost are more than happy to provide the set-up for a great joke and then react to the outlandish remarks and behavior from their scene partners. Smart choice on behalf of the award show's writing team.  
In the pre-taped skit, Che presented the "Reparation Emmys," explaining, "as a black comedian for so many years, our TV legends and heroes have gone unrecognized. So this year as host, I took it upon myself to finally right some of those wrongs."
He presented an award to The Jeffersons' Marla Gibbs, with Che telling her, "Your role as Florence the made is the reason why I got fired from every service job I've ever had." 
Jimmy Walker from Good Times was also handed one, who said, "I just got one word for this thing…it is dynamic!"
A Different World's Kadeem Hardison was another recipient, as well as Family Matters' Jaleel White. 
Steve Urkel was the original black nerd," Che told him. "Without you there would be no Kanye West. There would be no Obama." White innocently asked, "Did I do that?" It was great.
And When Martin's Tichina Arnold was handed her award and asked where Che got it, he said, "Let's just say I stole this from Bill Cosby."
We also got a fun cameo from Bryan Cranston during the sketch, when he just so happens to be nearby when Che said the only reason he's won so many Emmys for Breaking Bad is because he's white. (There's a timely Geoffrey Owens reference in there, too.)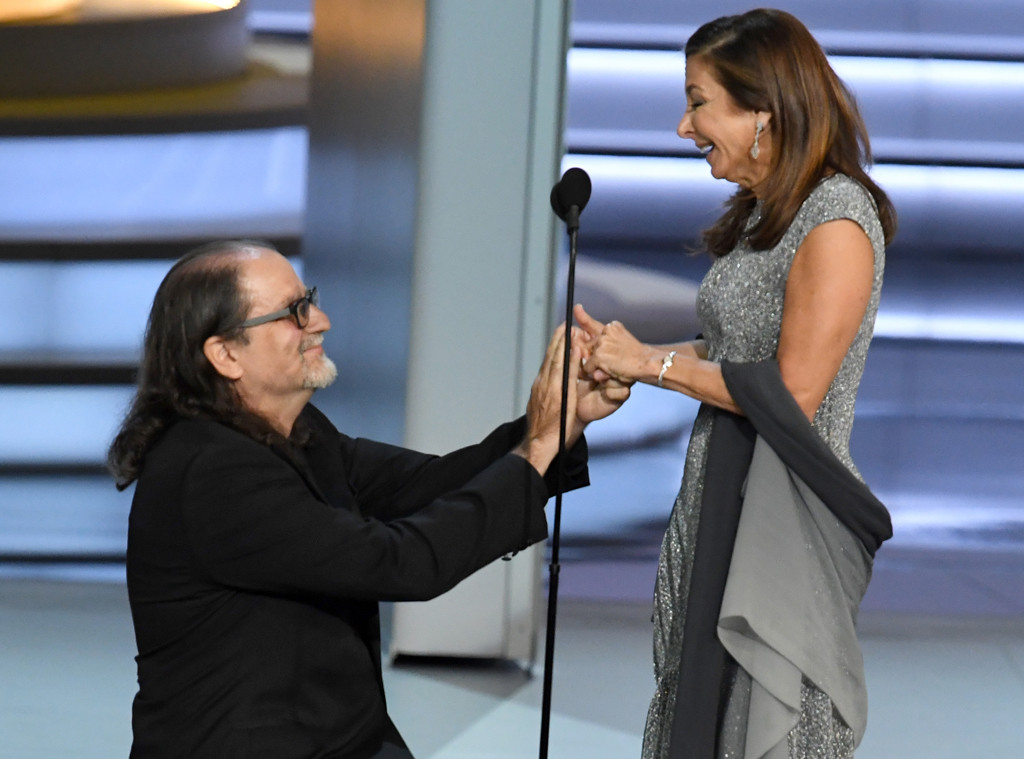 Kevin Winter/Getty Images
After the shocking surprise proposal, with Glenn Weiss proposing on stage to Jan Svendsen while accepting the award for Outstanding Directing for a Variety Special for last year's Oscars, the guys took a moment to acknowledge the special moment…and make it just a little awkward.
Che said, "My girl is actually here too. I want to ask her something. Shall we eat later, or…?" While Jost added, "There's so many guys who didn't win with engagement rings in their pockets right now!"
Phil McCarten/Invision for the Television Academy/AP Image
In the latter half of the show, Jost took a moment to address a serious topic: helping those affected by Hurricane Florence, the severe storm that impacted North Carolina, South Carolina and Virginia last week. 
"If you're watching right now at home, please during this commercial break, consider going online and donating or texting giveflorence to 41411 to support the American Red Cross Direct Relief and Team Rubicon," he said. "These charities have helped so much to rebuild in Houston and in Puerto Rico and they are ready to help in the Carolinas and Virginia now." 
And, finally, after Game of Thrones took home the last award of the night for Oustanding Drama Series, the two men came out to apologize "to all the presenters we did not get to" because  the show ran long. The list included: Beyoncé, Bill Clinton, Oprah Winfrey, Colin Kaepernick, The dog from Frazier, Jay Leno's garage, Michael B. Jordan, Scottie  Pippen and Kyle Mooney. 
(E! and NBC are both part of the NBCUniversal family.)
Don't miss E! News every weeknight at 7 p.m., only on E!